When it comes to pocket pistols, I love new stuff. Over the last 10 years there has just been an explosion of small pistol innovation. It's really hard to keep up with all the new and innovative products and design work going on right now unless you are an industry insider and have the chance to attend the many trade shows throughout the year. I'm not that lucky so I have to rely on others for the early word and then you can usually pick up more details on the web.
Earlier this week I read about a company called Heizer Defense LLC out of St. Louis, MO USA Earth. Gotta love how they included the planet in their location. So far so good with Heizer Defense in my book. They have a website Heizer Defense with a single picture of their DOUBLETAP two shot pistol. I'm not even going to use derringer to describe this pistol even through it does have a capacity of two shots in an over under barrel configuration. It appears to be more innovative than your run of the mill derringer so I won't saddle this pistol with that description.
Intrigued by the picture and their description below, I thought I would do some reverse engineering on the photo and see if I could estimate the dimensions. From their website, Heizer tells us the following about their new pistol. Sounds pretty good to me.
"HEIZER Defense has developed DOUBLETAP™ the world's smallest and lightest .45 ACP conceal carry pistol on the market today.
Only DOUBLETAP delivers, not once, but twice over! That's LIFE ASSURANCE!
Titanium Frame with MIL-STD finish resists corrosion.
2 rounds in chamber and integral grips houses an additional 2 spare rounds.
Ported barrel reduces muzzle flip and recoil.
Slim, no-snag and hammerless design for easy pocket carry.
Thumb latch auto ejects spent rounds.
5 Patents pending including double-action trigger."
So here's what the DOUBLETAP looks like after doing some estimation based on the one true measurement that we know to be true and that is the bore diameter must be at least .451" to acomodate the .45ACP cartridge. Building from that base, I estimate a height of 3.25" and a length of 3.5". It also looks like the width will be well under .75". I have no guess on weight but I am very pleased with the mention of a titanium frame in the description.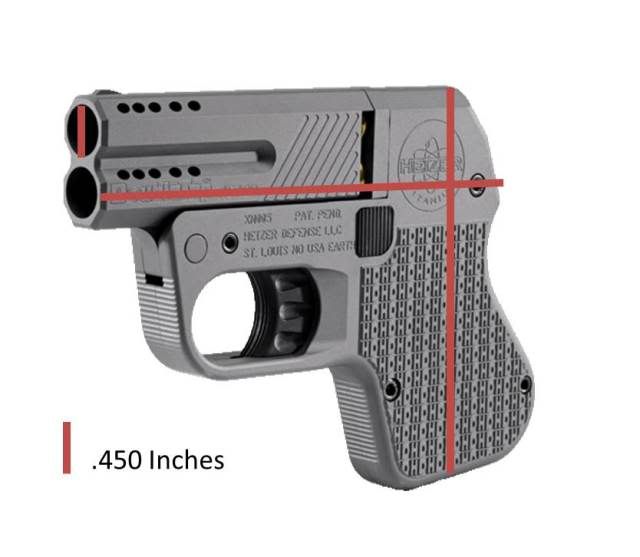 My next step was to print off my image in my estimated "life size" dimensions and see how it stacked up with other popular pocket pistols. The DOUBLETAP picture is flanked by an LWS380 on the left and a Rohrbaugh R9s on the right. It just seems to fit right in between the two of them.
I'm cautiously optimistic that we will indeed see the DOUBLETAP come to market. I can see adding one or maybe two to the collection/carry rotation if they aren't priced way out of this world crazy high. It's on my radar now so I'll be keeping my eyes on the website to see if additional details are updated in the coming weeks and months. Maybe I'll even have the chance to blog my review one day.
Shifting gears a bit, my excitement about the Heizer Defense DOUBLETAP reminded me that I had not checked one of my other "on the radar" guns in quite some time. That gun was the MSAR Archangel. MSAR is MicroTech Small Arms Research and back in 2009 they caused quite a buzz when they attended a show in Phoenix and displayed their Archangel 9mm pistol. At 7.1 oz, it promised to be the lightest 9mm pistol on the market. Aside from the trigger, it didn't look too bad in the various photos on the internet. Unfortunately, it appears that MSAR filed for Chapter 11 in July of 2011 and the Archangel pistol project has been shelved. Since 2009, I pinged MSAR twice for an update on the status of the pistol, but never got a respose so I assumed the project was dead. I guess I should cancel my standing order with my local MSAR dealer. =( Move this gun to the dead pool.