A couple of weeks ago I did a
blog post about putting together a Savage FV-SR scout rifle
in 22LR. Last weekend I got rained out at the range so it gave me time to order up a more appropriate scope and read up a little more about experiences others have had with various ammo selections in their FV-SRs.
As a reminder, this is what the Savage looked like with the original Bushnell rimfire scope.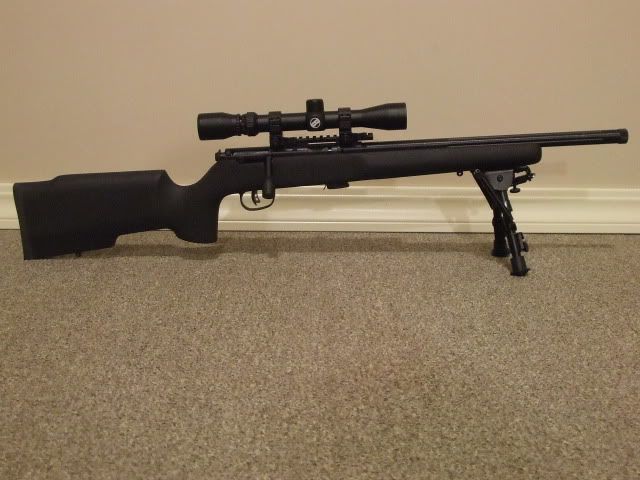 After reading some different posts from others about their rimfire scope choices, there was an overwhelming positive feedback thread on the Nikon Prostaff 3x9 Rimfire scope. Midway USA had the scope in stock along with Wolf Match .22LR ammo that others reported as a great and accurate ammo when shot through this rifle.
I took a chance and ordered a second set of Leapers UTG rings in medium height. It's always a gamble when you order a scope and rings or your rifle. Luckily, the rings were more than high enough to accommodate the larger objective lens diameter of the new scope. Here's what she looks like now.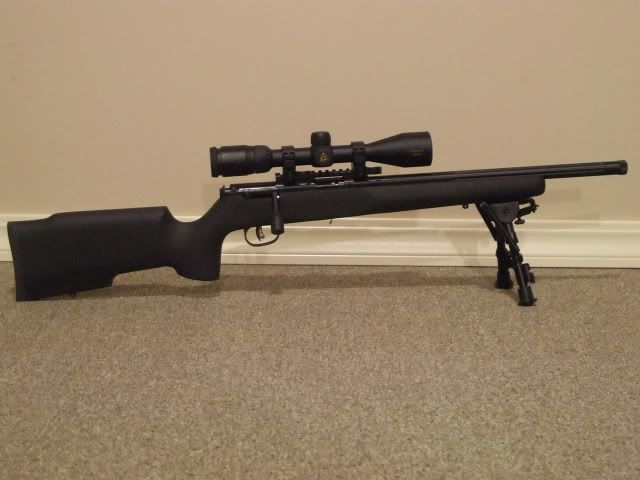 It was chilly and windy today, but the sun was out so I decided to take a run up to the range and start running some rounds down range with the scout. Unfortunately, I forgot the clips that hold my target holder together so I was able to rig something up with the clothespins I had in my bag. With the headwind coming up range over the backstop, the target was swinging in the breeze. I was able to get the scope zeroed and the wind died down slightly just long enough for me to get one good group on paper. If it's any indication of what's to come in this rifle's future, I'm going to be very happy with this rifle. It's so nice when you feel good about the money you spent on something. I'm really pleased.