I was contacted earlier today by a blog reader that wanted to know if I was going to review the Smith and Wesson Bodyguard .380. As it turns out, I bought a Bodyguard in July 2010 and did a mini review and range report on it, but that was before I started this blog so I've gone back and reconstructed the review and range reports from my original pictures and reports.
One of the first things I wanted to check was how the Bodyguard with it's integral laser would weigh in against a Kahr P380 with an add on Crimson Trace laser. As you can see from the two photos, the Bodyguard was about half an ounce heavier than the Kahr. That was very acceptable considering the Bodyguard had a barrel a half inch longer than the Kahr P380.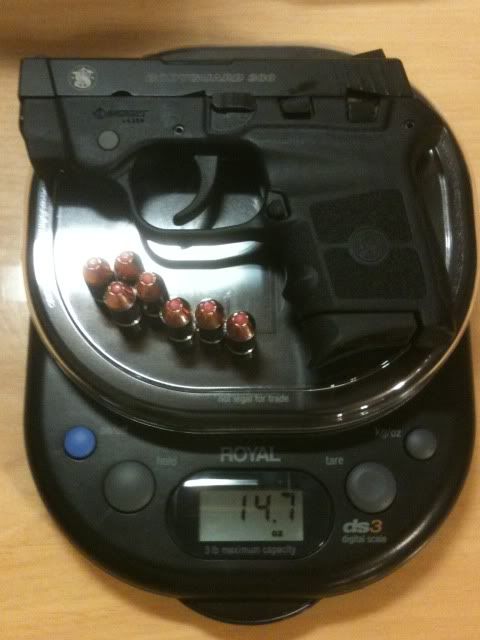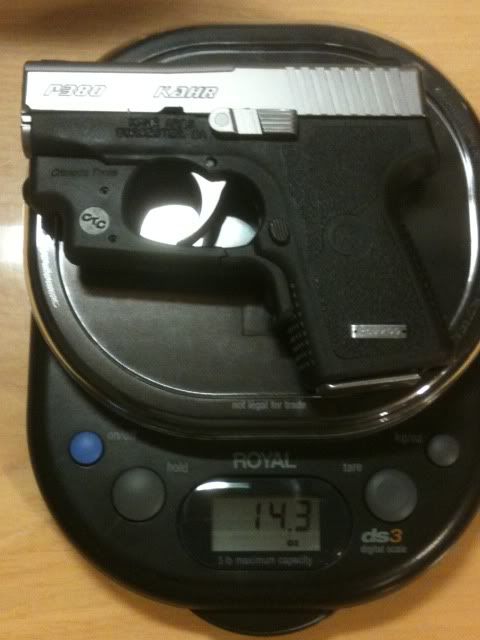 Initial impressions from cleaning are good and bad. Take down and reassembly was easy, but there was an odd bit that required you to pull the barrel forward to reinsert the take down pin.
I like the full length rails. I also like the stainless frame insert to keep the slide from battering the polymer frame when the slide cycles. I like how they have modularized the laser so it can be fussed with or not at the user's discretion. I really like the laser lens protective bezel as a quick wipe will remove any accumulated powder soot. Analog sights are good and highly visible. Melonite coated Stainless slide was nice to learn about reading through the pistol documentation. I also like that it's black. All black.
Hate the plastic trigger and it's mold line running down the center of the trigger. That's gotta go if this gun is a keeper. I like the steel guide rod, but noticed scoring from the twin recoil springs has already started. We'll see if this gets worse after some range time. External safety isn't well received by me, but I understand why it's there.
I could spend a bunch of time discussing machining marks and other visible signs of build quality, but I won't. I will say the gun passed the shake test with flying colors. When the gun is in battery (no ammo) and the mag fully inserted, there is zero rattling heard when you briskly shake the gun. Fitting is not sloppy.
Trigger is pure 3rd generation Smith and Wesson auto. It takes a firm press to get the hammer started and that's followed by a medium to long/smooth stacking and a clean break. I noticed a small bit of grittiness, but hope that will smooth out with rounds down range. In all fairness, I'm sure it's going to be fine for CQ self defense, but horrible for bullseye target shooting. Good thing this isn't a gun for bullseye target shooting.
My thoughts after my initial range test:
Finally, a .380 done right and ready to roll right out of the box. LCP, and Colt Mustang Pocketlite, you've met your match.
I don't want to jinx myself, because a good report today could be followed by a recall tomorrow, but I'll take my chances since a few of you want a second opinion on the ugly little kid called the Bodyguard.
I ran through half a Win White box Value Pack, a box of Golden Saber, a box + of Critical Defense, and finished up with about 35 Gold Dots. Happy to report my results were nothing short of perfection. It was a very Glock-like experience. One handed, two handed didn't make a difference with function.
Iron sights and laser were close enough to point of aim at 7 and 10 yards that I didn't make any adjustments. Trigger is still stiff, but it's workable for what this gun was designed for and the distances involved. Accuracy with the laser was very good with the white box Winchesters. First 7 shots had 4 touching shots clustered in a nice little clover leaf pattern.
Gold Dots were the last rounds shot since I wanted to make sure they would work even in a "dirty" gun. I was also pretty fatigued at this point as I was working with another gun in between strings with the Bodyguard to give it time to cool. My trigger finger was also pretty sore at this point from that confounded ridge on the plastic trigger. This target was the last 7 shots at 10 yards.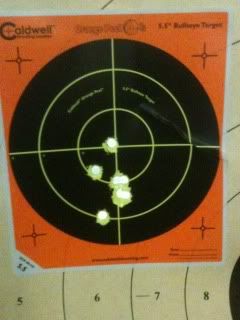 Brought it home and cleaned it up with specific attention to my areas of concern. As expected the stainless frame buffer showed signs of impact with the slide. It was only powder soot and was easily removed with Eezox. Full length rails showed signs of light burnishing on the 4 corners so they must be the high spots. Scoring of the guide rod ended up as nothing more than some superficial scratching from the springs and not the deep gouges you get with the LCP guide rod.
I see no reason not to put this one into the carry rotation immediately aside from my personal requirement of having a couple spare mags on hand. It's a keeper.
Follow-up Range Reports:
I increased my rounds downrange to 300'ish this afternoon. I have done a good job keeping up with the full boxes, but I've also been running all odds and ends from partial boxes through the gun as well since it seems to eat anything you put in it. So my count isn't exact.
Today was 50 rounds of Rem 95 grain FMJ and 50 rounds of Win White Box FMJTC. I set up 2 targets at 10 yards. As I was wrapping up for the day, I shot one without the laser and one with the laser. 12 rounds per target. Used the Win White box for these since they make such a neat hole in the targets.
10 Yard Iron Sights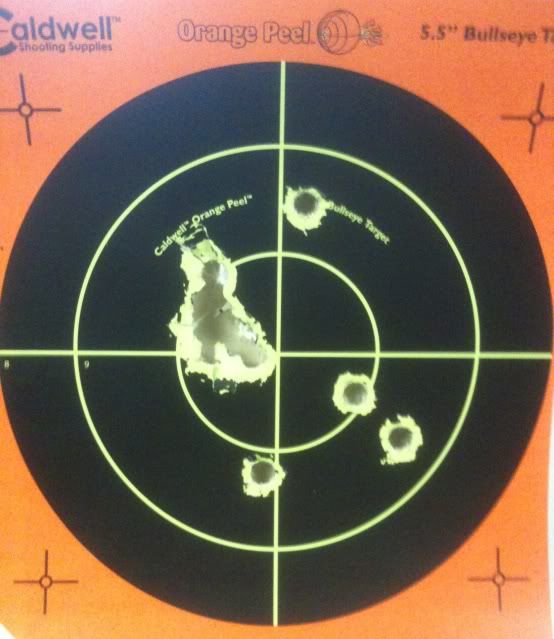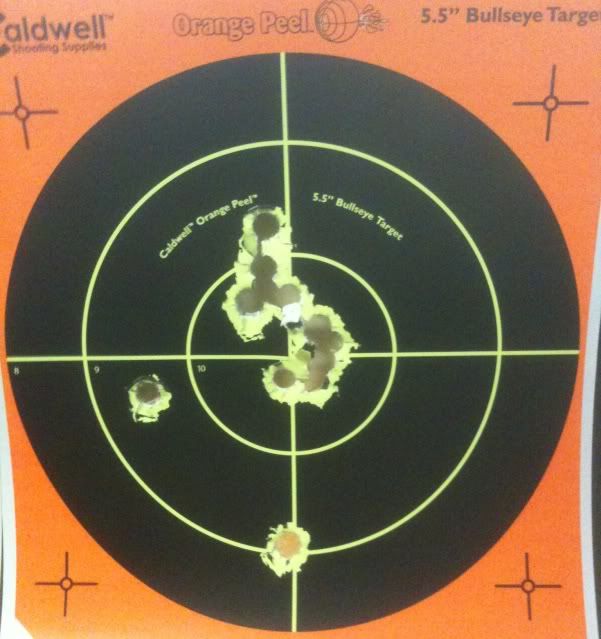 I've made zero adjustments to the sights or laser since taking the pistol out of the box when new. Based on the lack of any shifting of the laser over time, I have no intention of adjusting anything with the sights or laser. This is plenty good enough performance from both sighting systems. If anything needs adjusting, it's my shooting skills with this gun. I did learn today that my best groups came when I just stepped up and shot each round as soon as the sights or laser were back on target. Trying to pull up the trigger slack and then guessing when it would break was just futility with a trigger this heavy.
I did have to keep cleaning the laser's protective lens today. If I didn't keep up with it, the laser dot got large and dim as the grime built up on the lens. Must have been the Rem ammo because it wasn't building up so fast last time. The good news is that the actual laser lens sits behind a protective cover that was easily cleaned with some spit and my pinkie. No need for a swab and alcohol.
I'm pleased with the laser ad iron sight systems. I have had zero issues with failures of any kind. I'm adding this to the carry rotation with high confidence.
Current Update:
Several months later, I decided to trade off the Bodyguard. The only problem I ever had with it was with the laser activation buttons popping out when drawing the gun from a pocket holster. I had been accumulating 380 pistols like crazy in 2010 and could no longer justify having so many. Over many months I learned to love the trigger on the Kahr P380 so the Ruger LCP and Smith and Wesson Bodyguard were both traded off as they both shared similar trigger pulls and weights. I will say that the LCP and Bodyguard were both highly reliable.