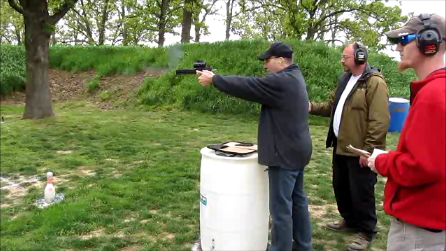 Last month I mentioned that the Ruger Rimfire Challenge match for Arkansas was going to be held on 4/7/2012. My goal was to end up in the top quarter of the shooters attending. This was an opportunity for some redemption after equipment problems at the 2011 shoot made competition difficult. I'm pleased to report that my gear was 100% reliable this year. In fact everything was working so well that I practiced for, and shot the match with the cheapie Federal Value Pack box ammo that you can pick up at Walmart. Not a single bad round in the box and I shot up all but 100 or so from the box of 550.
There was one piece of gear that did cause some problems for me and that component is located between my ears. Equipment can only take you so far. From that point forward it's all about the preparation and mental focus needed to really excel. I prepared ahead of the shoot, but I wouldn't call it practice. I made sure the rifle and pistol would hit where the red dot was pointing, but I didn't practice speedy transitions between multiple targets. Shame on me for not investing more time in preparation.
Mental focus was another failure. The mental part of the game just did me in. As I reviewed my score sheets from each of the stations, I saw that my first string was often the fastest of the three. Looking back on it I can remember being a little cautious on the first pass and making sure each shot ended up as a hit and not a miss. Getting all hits lead me to think that maybe this was easier than it looked so I better speed things up, which of course lead to a miss or two. Miss a target, you basically add a second to your total time. If you've ever heard the old phrase 'go slow to go fast', it really applies in this case. I'm smarter now, so I'll work on avoiding that pressure to rush in the future. A slow hit is worth way more than a fast miss.
I didn't shoot many pictures or video yesterday. The shoot was so well organized it seemed like we were either reloading our magazines, on deck to shoot, shooting, or transitioning to the next station. The shoot ran so much better this year than it did last year. I did ask someone to shoot some video on what I think was the most challenging station. I did ok with the pistol portion, but the rifle run on this station kicked my butt. My times were really bad.
My goal was to finish in the top 25% of the field. I ended up 29th of the total 75 shooters and 18th of 40 shooters in my specific classification. I didn't quite make it to my goal, but I think the lessons I learned will provide a nice platform to build on for the future. I'm also pleased that my pistol standings(18th) were better than my rifle standings(23rd). I like to think I'm better with hand guns than long guns. My overall combined total time in my classification had me 5 seconds ahead of the guy behind me and trailing the guy in front of me by 7 seconds, so it wasn't a hotly contested spot.
Once again, it was fun and I hope to do it again in 2013.