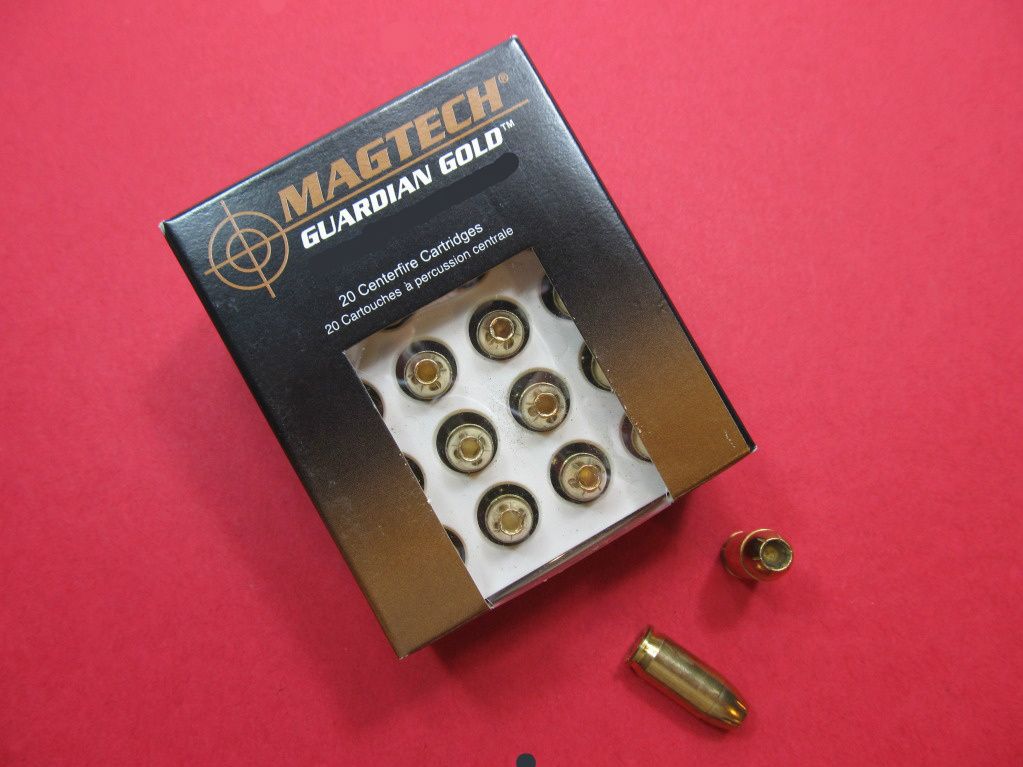 I'd like to apologize for the strange photo. I've been buying Magtech Guardian Gold ammo in .380 and .40 S&W for a long time. I was running short on storage space for .380 ammo last year and decided to pull down all the 20 round boxes of Guardian Gold and store them in plastic ammo boxes that hold 50 rounds. This was a much better use of space in my ammo storage locker. Because of that, I don't have a factory package of .380 on hand. I decided to substitute a .32 auto box, but at least the loose rounds are correct.
With that out of the way, I really didn't know what to expect from the 85 Grain Guardian Gold. First off, it's labelled as a +P 380. According to SAAMI, the governing standards board of US Ammunition, there is no such thing as a +P 380. Knowing the risks, I've shot a bunch of it over the years and find it to be a fairly fast load, but by no means is it a velocity curve breaker. There are other manufactures out there making 380 +P ammo that drives a heavier bullet to much higher velocities. I felt pretty safe using this ammo in my test gun and have done so a few times for my testing.
If you follow my blog and my tests, you know my testing process. If you are not familiar, please view the video as it includes footage from the range and also footage from the bench where I extract the captured bullets from the SIM-TEST ballistics media. My testing process is pretty simple. I take two shots at a SIM-TEST block that is loosely draped with 2 layers of medium weight denim. I take the shots from 8 feet away and impact velocity is measured 8 inches away from the SIM-TEST block. This testing was done with a Kahr P380 with a 2.53" barrel.
Here are the two recovered rounds and the data points for each. While not the biggest .380 expander I've tested, it did expand quite well. Penetration was not as optimal as we would like to see, but considering the very short barrel length and lighter than most 85 grain bullet weight it did pretty well.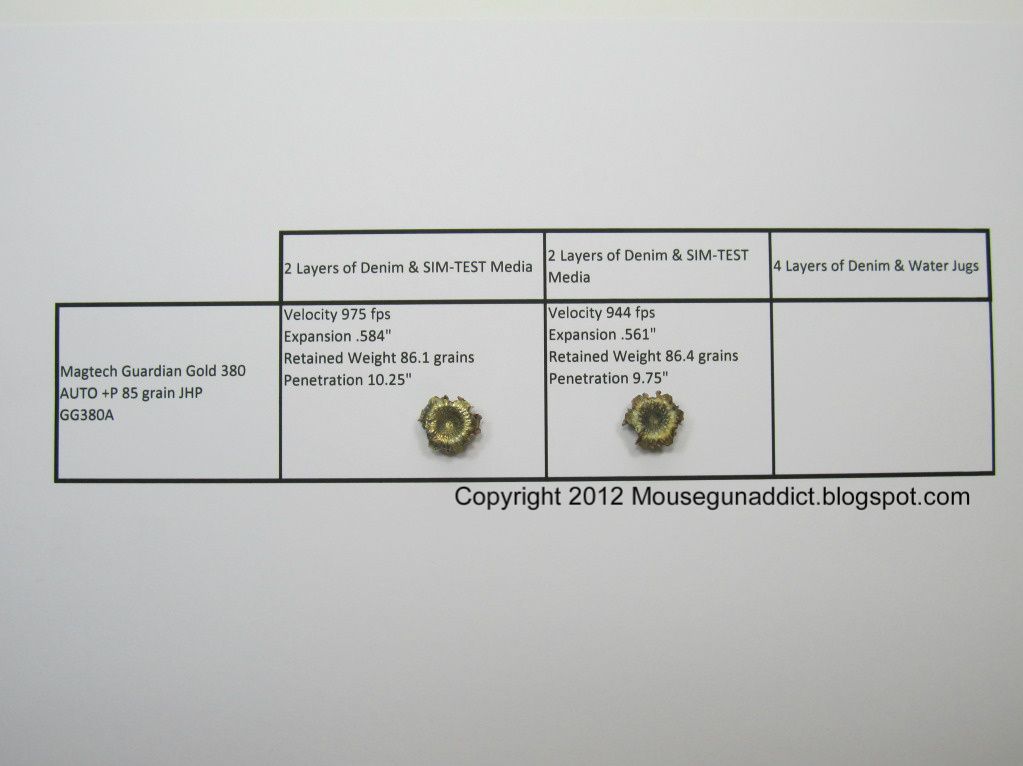 My Comments: If you frequent the Elsie Pea forum, you will inevitably read about how this ammo is a big no-no in the Ruger LCP because it's caused at least one to blow up. Ruger frowns on 380 +P ammo in their guns and I don't blame them because there are no standards for 380 +P. This ammo has worked well for me in my Kahr P380, Bersa Thunder CC, and I even ran a bunch through a Diamondback DB380 before Diamondback added the no reloaded ammo and no +P ammo to their warranty disclosures. I've never had any signs of excess pressure or problems with feeding or firing with this ammo.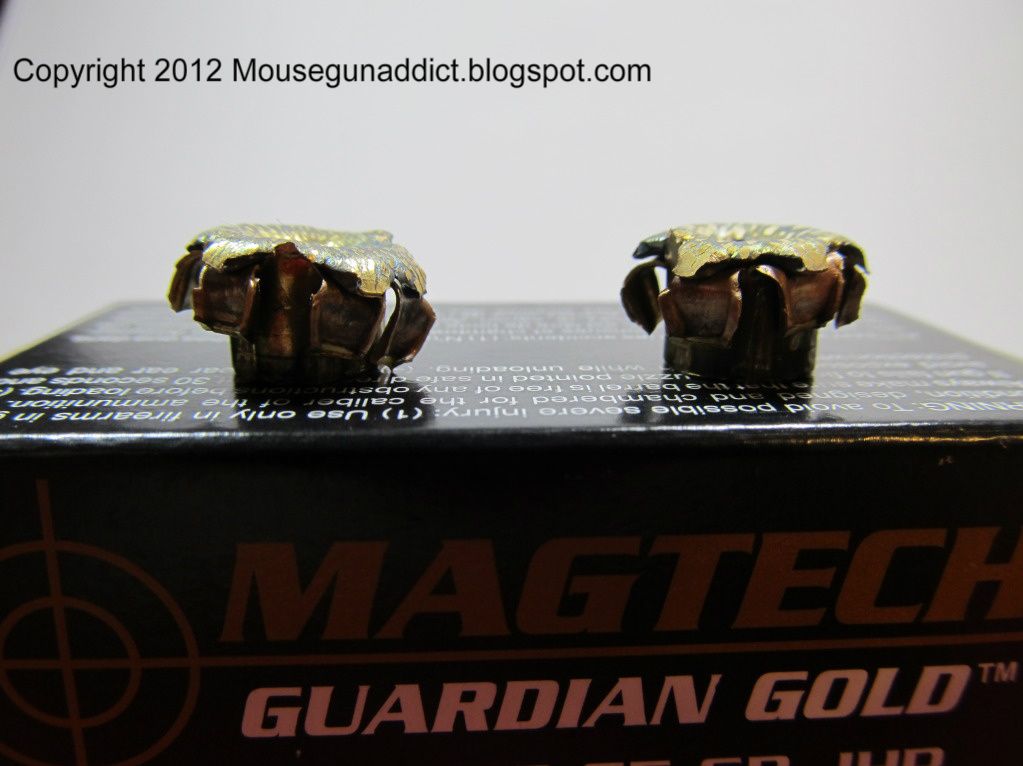 Once I shoot up my stock, I can't see myself buying more of these since other standard pressure choices perform equally well. Expansion was good, but the penetration was just average. I think that can be traced back to the lighter bullet weight. One thing about the Guardian Gold line is that it was always priced about $4 less per 20 rounds than the headliners from Speer, Federal, and Winchester. For a budget defense round, the expansion performance was very satisfactory.