Back in early March I compiled my
2012 Wish List
after scanning through all the new product announcements made at SHOT and the NRA shows. One announcement that really caught my eye was the new P938 from Sig Sauer. In the Wish List blog, I posted a picture of the 938 variation I was most interested in getting and also my thoughts on why I really wanted to get my hands on one. All the underlined text was in my March blog.
Sig Sauer P938 9mm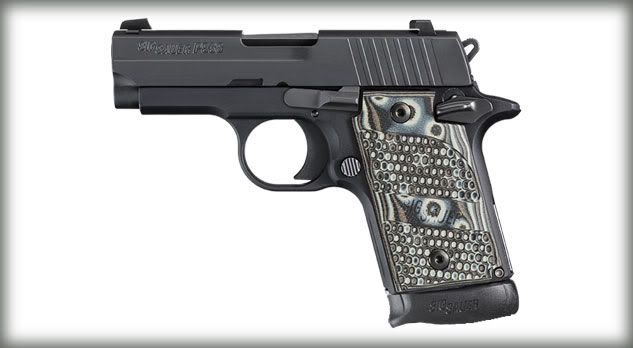 Why I want this pistol: Capitalizing on the success of their .380 acp P238 , Sig has announced a 9mm will be available in a similar platform. With a 6+1 capacity and an optional 7 round magazine (pictured) this 1.1" wide beauty sports a 3" barrel and 1911 like controls. Sig has listed several variations of this model, but I'm most interested in the all black Extreme version pictured. It's small with a light weight alloy frame. I can't wait to get my hands on this little gem for discrete 2 O'clock IWB carry.
Getting back to today, Summer is in full force down here in Arkansas. If you've lived here long enough you get accustomed to the heat and you just deal with it. I've discovered my SIM-TEST blocks don't like the heat very much so terminal testing is on hold until things cool down a bit, but I think that may end up being a good thing since I've got at least 10 completed tests that need to be edited and fully documented for the blog. Taking a break from testing should allow me more time to edit videos and take the pictures that I usually include with my tests.
The blog has gotten "ammo test" heavy over the last two months. That's not necessarily a bad thing, but I really want to get back to doing some gun and gear reviews too. My problem is that the new guns on my wish list have been really slow coming to market. So slow, in fact, that I have not been checking on availability as diligently as I have in the past. I was actually quite surprised to find my P938 Extreme (as pictured above) available on one of the gun auction sites this morning with a buy it now price that didn't make me feel totally taken advantage of. I'm sure I could have spent today traversing all the local gun shops hoping to track one of these down, but I don't think I would have saved any money by doing that and I probably would have returned home empty handed and disappointed.
Hopefully, I'll have it in hand by next weekend. I've always loved the Colt Mustang, so I'm anxious to see how Sig up-sized the P238 to accommodate the 9mm cartridge. You can look forward to the usual un-boxing and range reviews. Based on the specifications from the Sig Sauer website, this little 9mm should be a really fun gun test out and hopefully work into the carry rotation. Speaking of carry rotation, I better see if Alan at Remora has a holster for this model yet.