I had an extra long weekend and spent the afternoon doing my final test shoots with the P938. I really wasn't planning on comparing the 938 to anything because it's pretty unique, but I was getting all kinds of questions about how it compares to others so I caved and did my first ever something vs. something else video. I think it turned out well, but we'll see how the viewers react. I see I have one dislike on the video already, but no views of the video. This may get ugly.
When the dust settled yesterday afternoon, I had been on the range for over 4 hours and had many hours of raw video to weed through. I took some of the highlights, and disappointments, from the afternoon and compiled it into a second range video. I like visiting this range because I'm usually alone and the range allows for movement and creative targets. Unfortunately, the wind is usually a factor and it was blowing like crazy all afternoon. I tried to remove as much wind noise as I could with the video editing software, but it's still in the background making it difficult to hear what I am saying at some points. Not my best work, and I appreciate your tolerance.
My Thoughts and Review Wrap-Up:
After running 300+ rounds through the P938, I think I'm ready to give an overall recap of the ownership experience so far. As a beta tester I knew my chances of getting a 100% pistol were going to be 50/50 if my past beta testing results were any indication of future results. Unfortunately, I have to say that this pistol falls into the 50% failure group. Let me recap why I'm making that judgement.
1) If you watch the videos you are probably sick to death of me saying that the gun shoots left or I need to work on my grip or trigger control to keep the pistol from shooting left. Well, as it turns out the shooting left thing wasn't my issue. Earlier, I had checked the rear sight placement and saw that it was centered in the dovetail. It didn't occur to me to check the front sight. In the picture below, you can see the front sight was not installed correctly and if it was centered, by moving it to the left, I'm sure the pistol would be shooting much closer to point of aim. Chalk this one up to poor QA.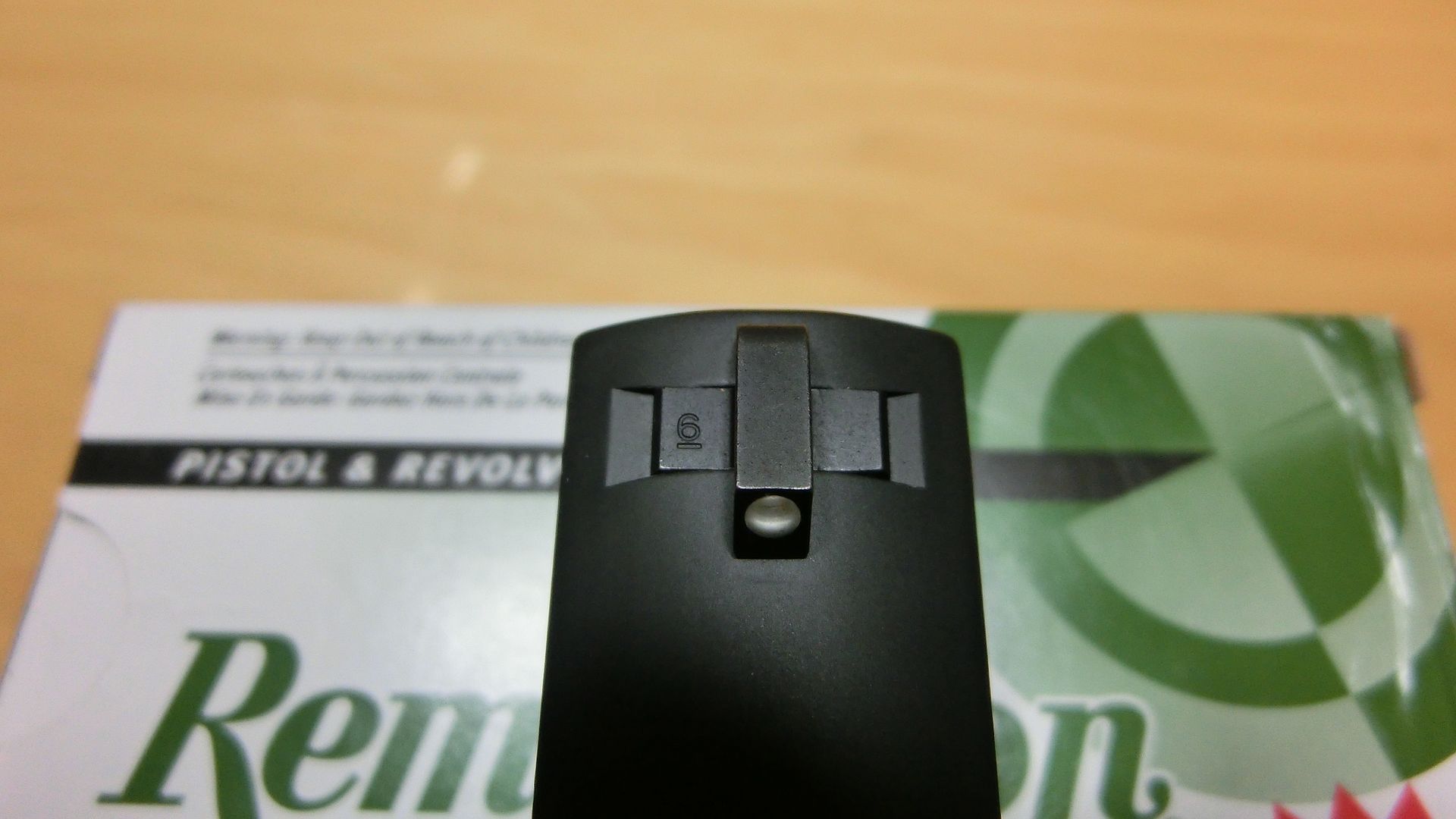 2) Failure to extract multiple brands/varieties of ammo. I guess it could be worse if the pistol failed to extract every round, but as it is currently, it's very annoying. I've had multiple failures to extract with:
Winchester White Box 115 Grain FMJ
Remington UMC 115 Grain JHP
Federal American Eagle 124 Grain FMJ
Winchester Personal Protection 147 Grain JHP
I did find some brands that had no extraction issues at all. The Speer products; Gold Dot and Blazer aluminum were trouble free. Federal 115 Grain FMJ also worked. S&B is probably ok, but I'll be avoiding that going forward due to the one failure to fire I had on day one. Some folks would just stick to ammo that works and be good with that. I take a different view when 4 of the 8 varieties don't work. I'm willing to avoid one or two choices, but not half of the 8 I have tried so far.
To the credit of Sig's Customer Support Team, I called them this morning about the failure to extract problem. They emailed me a FedEx prepaid shipping label within minutes. I'll clean up the pistol a bit tomorrow and drop it off at the FedEx depot on Thursday. They estimate 7 to 10 day turn around on the pistol. Obviously I'm glad they made the return easy, but I'm still disappointed I have to though the drill. I'll get them to push the front sight over while they have it. I'm sure they have the right sight pusher for the job.
3) This one is 100% on me to fix, but I shouldn't have to adjust my shooting style to work around a physical design element of a pistol. The sharp bottom edge of the trigger that tore me up on day one can be worked around with a band-aid or changing the way I squeeze the trigger. I've also had comments that I can break the sharp edge with a dremel or by hand with files and abrasive papers. I'll figure out how to deal with it.
Keep or Trade:
I really like several things about the P938. If the extraction problem can be resolved and the front sight bumped over, I think I will have a heck of a shooter on my hands.
Even though the single action trigger is gritty and heavy at 300 rounds, I'm hopeful it will improve with time. As it is now, it's manageable and not an inhibitor to accurate shooting. I do feel that it's short travel and reset will ultimately become an asset for fast and accurate shooting.
The grip angle feels very good in my hand. I also feel that it flips less than other pocket 9's, which again should contribute to faster recovery between shots. The combination of front strap checkering and aggressive Hogue grips provide plenty of secure purchase for your hand even when shooting with a one-hand hold. I definitely do not get the feeling that the pistol is trying to escape from my grasp when shooting one handed.
Sights are outstanding in bright or no/low light. The best factory sight set I've ever received on a small pistol.
With some additional practice time, I'm quite confident that I will come to appreciate the P938 as much as I have appreciated my Colt Mustang Pocketlite over the last 20 years. I guess I just have a soft spot for the classic single action and Sig's interpretation of that trigger system in the P938 is quite appealing to me.
I'll post an update when I get the pistol back from Sig's Service Department. At least we know which ammo brands we're going to try first.