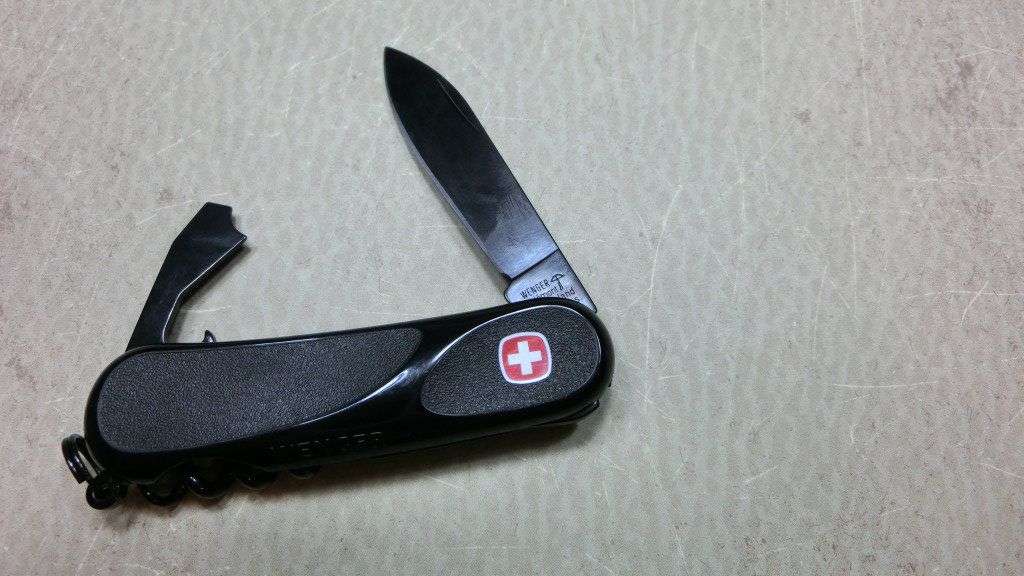 I've been a fan of Wenger knives since buying my first one back in 2000. Prior to that, my Swiss knife experience was limited to various Victorinox models since childhood. Wenger was the first to include a cigar scissor tool on their knives and I've owned 3 of them since purchasing my first at a duty free shop at the Manchester, England airport.
Once you have a Wenger or two (I lost one several years ago) you don't pay much attention to them. They simply go about their business and do what's asked of them. If you take the time to give them a bare minimum of cleaning and lubrication, you've got a knife for life as long as you don't lose it.
I recently got an email from a company I've done business with over the years and noticed a new model of Wenger was available. What drew me to the knife was it's amazingly light weight, redesigned scales, and black coating. I decided to try the cheapest of the three available models to use as a lighter weight option to my smallest stainless steel scaled Wenger knife. The video below covers my first impressions of the knife and the tools included with the knife.

In order to maintain it's very light weight, the Blackout Evo 63 comes with a minimum number of tools. The 2.5" main blade has 2 1/8" of sharpened edge. That should be plenty big enough for the majority of day to day cutting tasks. The bottle opener/can opener/screw driver/wire bender should also be handy. For me, the toothpick, tweezers, and cork-screw are just added baggage that probably won't ever be used. Unlike previous Wengers I've owned, this one isn't so heavily sprung. The main blade is secure, but opens very easily.

The split ring/lanyard ring would be very handy if you were planning on adding this to your key chain. In reality, I'll probably pull the split ring off in a few days. The Evo scales are very light weight, which I am assuming is due to their scalloped design. Rubberized inserts have been installed in each scallop and the scallops are mirrored on both scales. The knife feels very good in the hand.

For $30, this knife isn't a steal but rather a new twist on a classic design. I really like it's ultra light weight and unique black finish. It's got enough good things going for it that it may end up spending more time in my pocket than tucked away in a drawer.