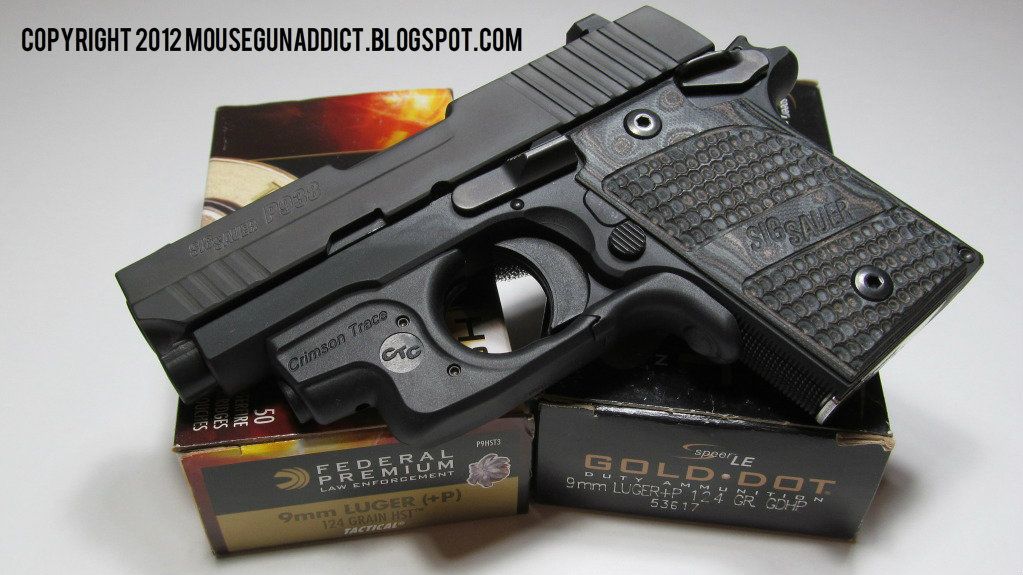 After finishing up my review of the Sig P938, I had some grand plans to order a Crimson Trace laser for it and also try feeding the pistol a steady diet of defense loads to see if it made an improvement in reliable feeding and extraction. You know how plans go, they are easy to make and often difficult to follow through on. Between the unscheduled gun reviews and change over to the new clear gel ballistics testing media, I never got back to the 938.
Finally, last weekend was my chance to get the Sig back out to the range and see how it handled +P defense ammo. I took some Gold Dot and HST 124 Grain +P loads with me with every intention of running through at least 50 rounds of each. I also installed the Crimson Trace Laser Guard before heading out. The Crimson Trace fits really well, but I immediately noticed the change in available grip length after the install. There's not much real estate on the front strap to begin with and adding the laser made the available space even less. Undaunted, it was off to the range.
I had a shooting buddy meeting me at the range so I did some shooting with the 938 and I also let him shoot a bit too. I made a short video from the range session. I went easy on the editing and left quite a few of the candid comments in place.
I picked up on a few things during the range visit that I will share with you. Some of these you may have noticed in the video. The first thing I learned is the 938 isn't much fun with +P ammo. I was having some genuine discomfort shooting it that was not there during previous outings. Some of the discomfort may be attributed to the reduced grip area on the front strap now that the laser is installed. Some may be due to the additional recoil of the +P ammo. Going forward, I'm sticking to standard pressure defense loads in this pistol.
The other thing I learned is that I've developed a striker/double action trigger finger. I'm really glad Jon was with me to show me that the pistol sights were fine and it was my issue with trigger control that caused my shots to hit left of point of aim. Jon had no problem keeping his shots centered on the target. We talked about it later and we think I may need to have a bit less finger on this single action trigger. Jon shoots single action pistols about as much as I shoot striker/double action pistols so it's no wonder he got better results than I did
The last thing I learned is this pistol should be reliable if it's fed a steady diet of good quality defensive ammo. All through the review and even after the review, I've never had a single failure of any kind when using Gold Dots or HSTs. This includes the standard pressure and +P 115 grain and 124 grain varieties.
I was encouraged by the results from this last trip. I may work on my trigger technique or I may just cheat and slide the rear sight over a bit to adjust the pistol to me vs. adjusting me to the pistol.