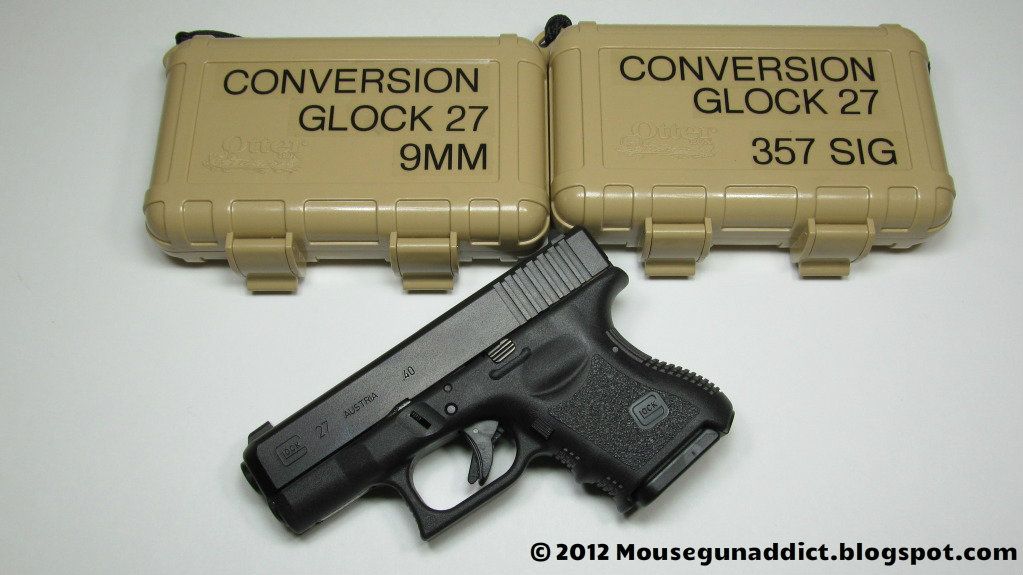 Multi-caliber pistols push all the right buttons for me. I don't collect them, but I do have a great appreciation for them. I remember when I first read about the HK-4, I immediately knew I wanted one. Having one pistol frame and slide with 4 caliber specific barrels, recoil springs, and magazines gave the owner the ability to shoot .22LR, 25 Auto, 32 Auto, and .380 Auto. Reality set in when I found out that production of the HK-4 ceased in 1984 and I was reading about it for the first time in the early 1990's. I have no idea why the HK-4 ended up in the "no longer made" category, but for me the allure of the concept never went away.
Many years later I discovered that .40 caliber Glock pistols share similar capabilities with the HK-4. After purchasing a .40 S&W Glock (full size, mid size, or compact), it is possible to swap out barrels and magazines and turn your .40 S&W Glock into a 9mm and/or .357 Sig. Glock one-ups the HK-4 by eliminating the need to change out recoil springs. 9mm and .357 Sig magazines are available from any Glock accessories dealer. OEM 9mm and .357 Sig barrels can be purchased from Glock parts dealers. There are also a few after market manufacturers of Glock barrels. In my case, I used barrels from Lone Wolf Distributors.
For clarity and completeness, I should mention that the .357 Sig Glock models (full size, mid size, or compact) can also be converted to .40 S&W and 9mm. I had a G27 so that's the conversion path I followed.
In my case, tracking down a 9mm conversion barrel was pretty easy. The .357 barrel took a bit more patience because it looks like Lone Wolf sells every one they make in a matter of a few minutes. Magazines were very easy to find. With some smart shopping and waiting to buy during sale periods, I finally got all the parts I needed for what I thought was a reasonable price. My next stop was a way to keep everything organized.
My experiences with Otter Box goes way back. Over a decade ago, I used Otter Boxes, in the size show in the pictures above and below, as travel cigar humidors. They always did a great job protecting their contents. Otter redesigned their cases a few years ago and closed out their old Model 2000 stock. I picked up a "few" at that time and they work perfectly for storing the conversion parts. I'm sure there are other dry box options available.
I could go into much more detail here, but I think I covered everything important in the range video below.
I'm really pleased with this 3 caliber set up. As I mentioned in the video, it's going to be a great tool for my ballistics testing. I've actually used it in that capacity to run a 3 caliber side by side test, but I have not had the chance to publish the results yet. The range trip yesterday was my first chance to run 150+ rounds through the conversion with constant swapping between the different barrels and magazines. I'm really pleased with the results with zero failures of any kind.
As an aside for those wondering why the G27 can't be converted to .380 Auto, it has to do with the operational design of the pistols. While similar in size to the G27, the G28 is blow back operated while the G27 is a locked breech design. Technically, you could convert your G27 to .380 Auto with a G28 slide, barrel, and magazine. You may also need to change the recoil springs. Import restrictions on the G28, and it's component parts, make this conversion nearly impossible. So while it would be cool, it's probably not something I'll ever attempt.
The G27, with all the conversion parts, gets me very close to the 4 caliber HK-4 I lusted after back in the 1990's, but in much more meaningful defense calibers. I'm satisfied with that compromise.