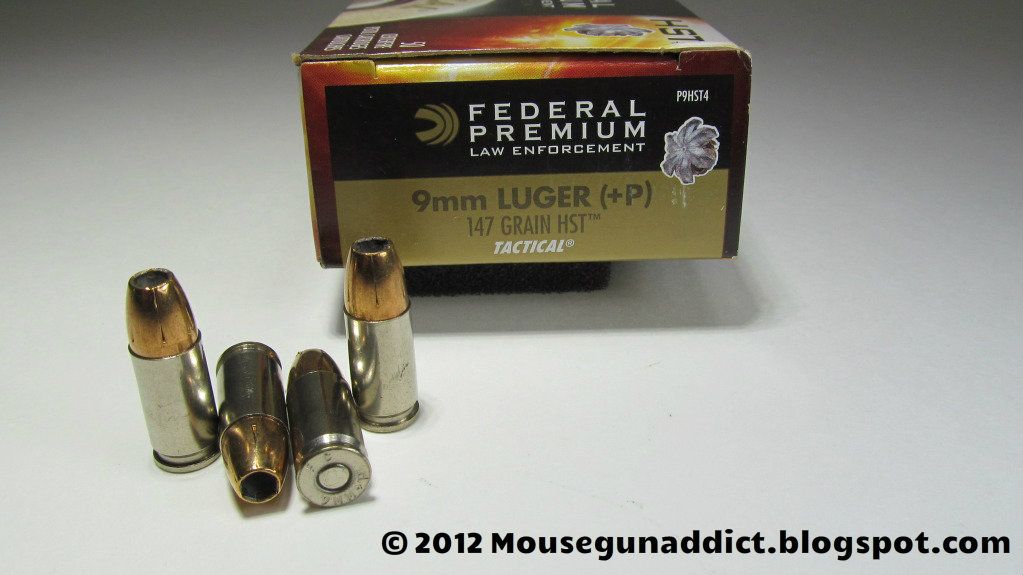 A few months ago I received an email from Seth at Ammunition Depot that was very complimentary of my ammo testing videos and blog articles. Seth offered to help me out if his store had anything in stock that I found difficult to locate on my own. I singled this load out as one that I have found very difficult to get my hands on when ordering ammo from my usual sources. Seth had a box on my doorstep in less than a week. Since the ammo was provided to me free of charge, I thought I would change up the format of this review and do both a short and long barrel test with the donated ammunition. So please keep an open mind as you read down through this new testing format.
I've read about this specific load for quite some time. It is generally held in high regard across many of the forums I follow and I think that's part of the reason why I've had such a difficult time locating a box for testing. I've had multiple requests to review this load so it appears that word of mouth has many people interested in how this load performs in both long and short barreled pistols.
Short Barrel: Kahr PM9 - 3" Barrel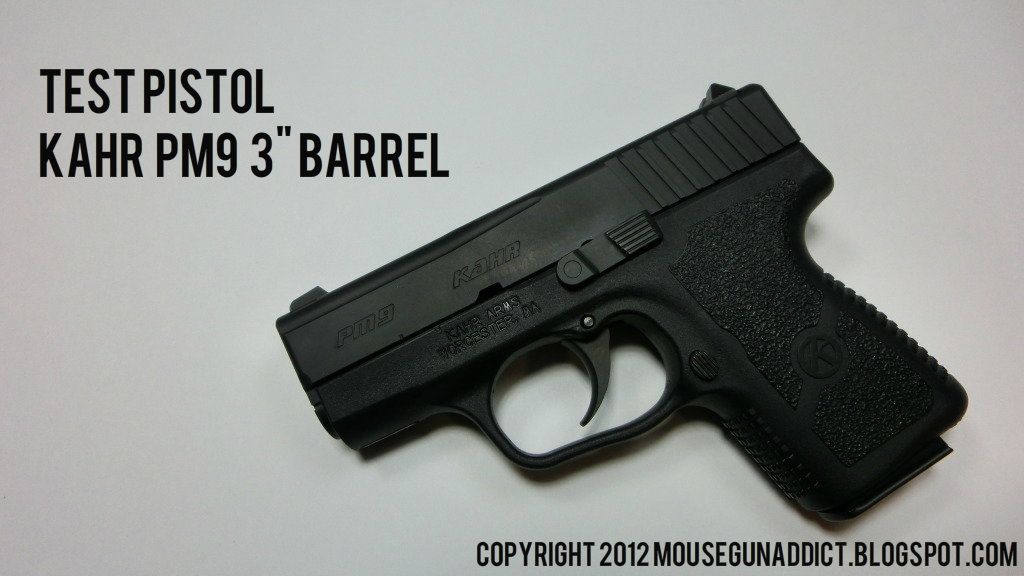 Testing Protocol:
My testing process is pretty simple. I take one shot at the end of a Clear Ballistics Gel block. I take the shot from 8 feet away and impact velocity is measured 2 inches away from the block. Clear Ballistics Gel is calibrated to 10% ballistics gel density. I shoot the block at the range and then bring it home to analyze the block and recover the bullets. Immediately prior to the terminal test, I shoot a five shot velocity test string from 8 feet over a Competition Electronics ProChrono Digital chronograph.
Long Barrel Test Recovered Round: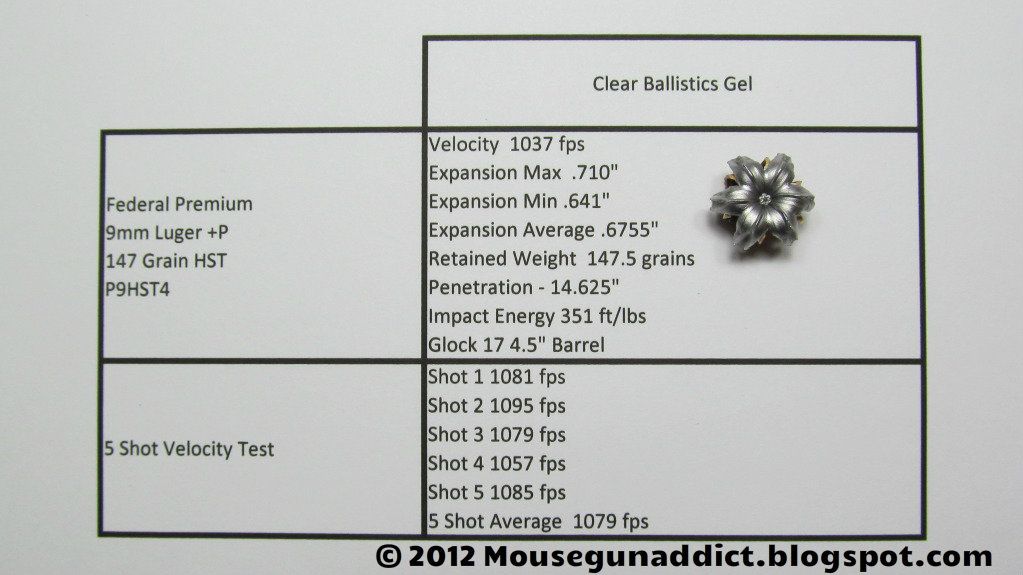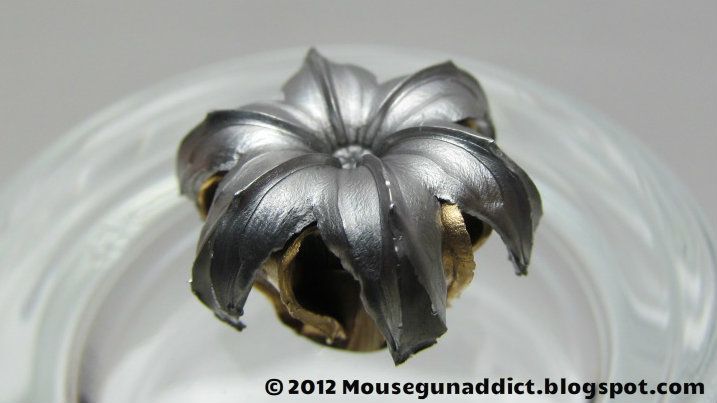 The video below documents my entire long barrel test from range testing to bullet recovery.
Short Barrel Test Recovered Round:
My Thoughts:
The more HST I test, the more I appreciate the incredible flexibility of this line of ammunition. While it does not carry any special markings that it will perform in short barreled pistols, it has never failed to impress me with full expansion and satisfactory penetration. Weight retention is also as good or better than other competing loads when shot into bare gel or through 2 layers of denim and gel. Adding another 1.5" of barrel length with the longer barreled Glock allowed for higher velocity and greater expansion. Penetration was reduced due to the larger frontal bullet face that was pushing through the gel. Both tested rounds penetrated well beyond the 12" penetration hurdle that seems to be the expected minimum penetration depth.
I was a bit disappointed that both test shots came in well below their 5 shot velocity averages. Even with this, the long and short barrel velocity spread with the two test shots was 79 fps. Looking at the two recovered bullets, there was a noticeable difference in expansion between the two rounds. The petals of the bullet fired through the short barrel extended back to the mid point of the bullet shank. The petals on the bullet fired from the long barrel expanded and extended all the way back to the bullet base.
I will admit that I was a bit skeptical of the terminal performance we would see with this 9mm 147 grain load. My skepticism stems from very poor expansion performance from this bullet weight in some very early 9mm ballistics tests done in 2011 with loads from other ammo makers. I am really impressed with the performance of this load in both the long and short barrel and I can see that it deserves all the positive praise it receives on the forums.
Long barrel test bullet on the left and short barrel test bullet on the right.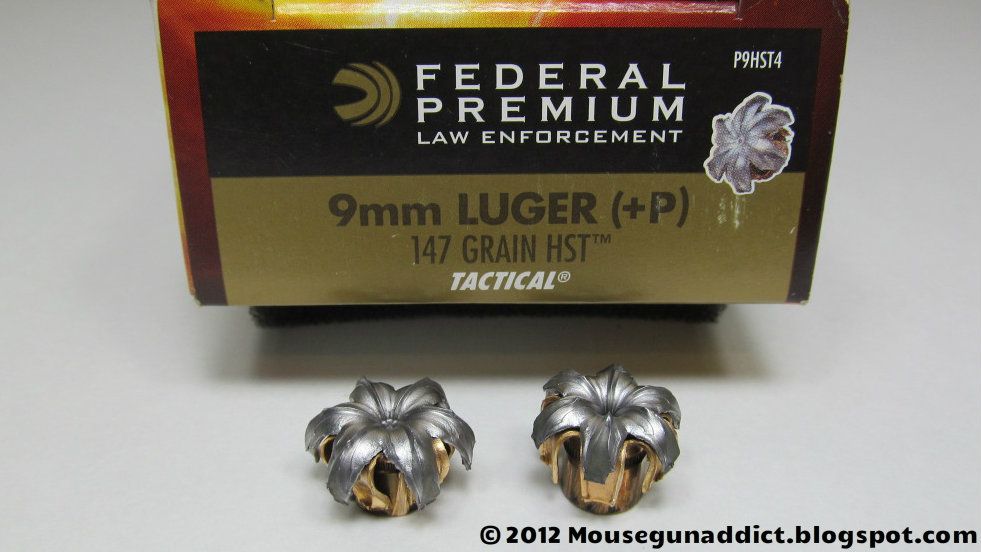 I hope you enjoyed this test. I'm interested in your feedback if you have any thoughts on making the review article easier read when combining two tests into one blog article as I've done here.

Disclaimer....This test should not be considered an endorsement or recommendation for the product(s) tested. All tests represent actual performance in ballistics testing media. Terminal performance in all other media will show different results. It is up to each individual to make their own personal decision on which specific ammunition to use for their needs. It's also critically important to test any ammo in YOUR SPECIFIC FIREARM before relying on it for any purpose.

Ammunition labeled as +P or +P+ should only be used in firearms that have been certified by the manufacturer as safe for the additional pressures generated by these ammunition types.