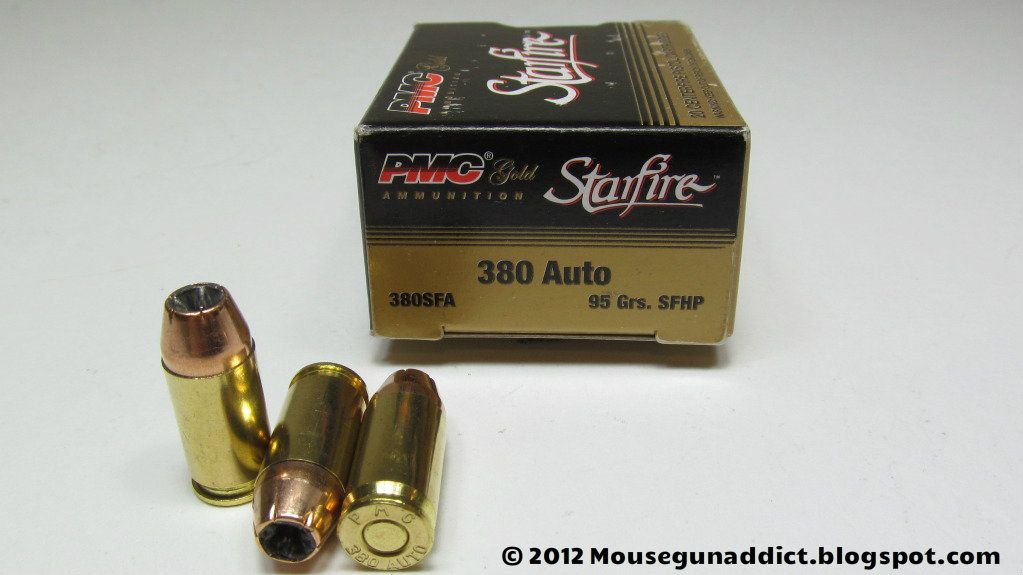 I'd like to thank the folks at Lucky Gunner for donating the ammunition for this test. They contacted me out of the blue and asked if I would be interested in testing some of the PMC Starfire ammo they carry. I took them up on their offer because I was really interested in seeing how this load would perform. I first started buying PMC Eldorado Starfire ammunition in the 1990's when it was made in the USA by the Eldorado Cartridge Corporation in Boulder City, Nevada. When the Winchester Black Talon was pulled from the consumer market, the buzz was that the Starfire was a hollow point bullet with expansion characteristics similar to the Black Talon. I actually found one box of .357 Magnum in the cabinet with the old packaging, but the rest of the old stock went into the berm years ago. At some point over the last 20 years, Eldorado was dropped and PMC Ammunition is now manufactured in Korea.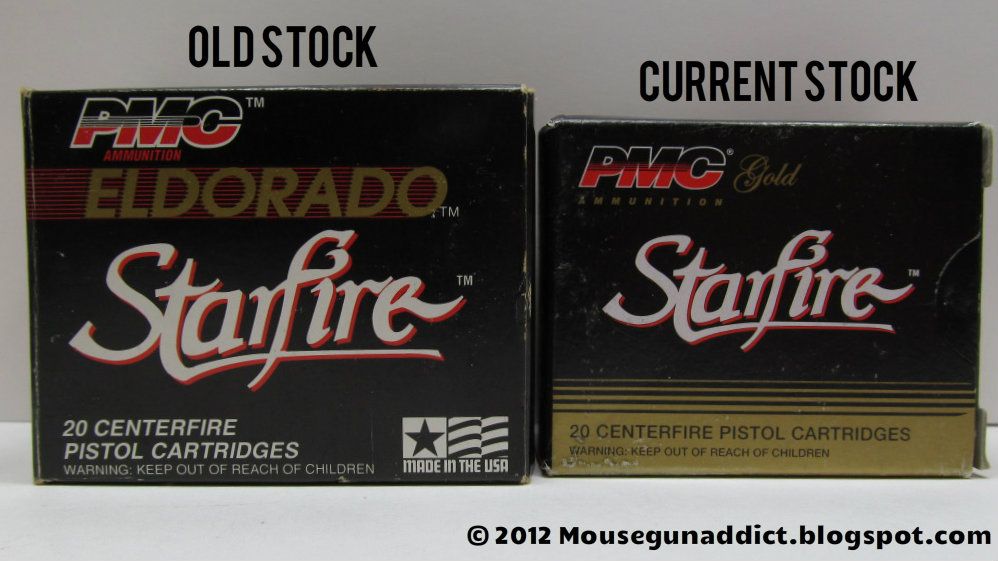 In the last few years, I've shot a bunch of the PMC Bronze full metal jacket practice/range ammo with very good results. I was really looking forward to seeing how the Starfire would perform in terminal testing.
Pistol Specs:
Kahr P380 2.5" Barrel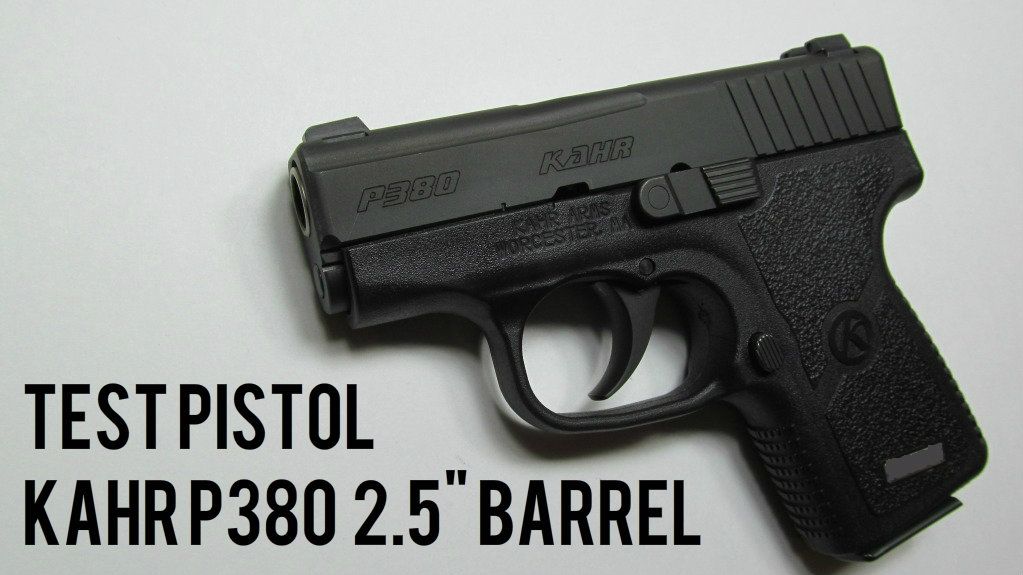 Testing Protocol:
My testing process is pretty simple. I take one shot at the end of a Clear Ballistics Gel block. I take the shot from 8 feet away and impact velocity is measured 2 inches away from the block. Clear Ballistics Gel is calibrated to 10% ballistics gel density. I shoot the block at the range and then bring it home to analyze the block and recover the bullets. Immediately prior to shooting the block, I take a 5 shot velocity test over my chronograph.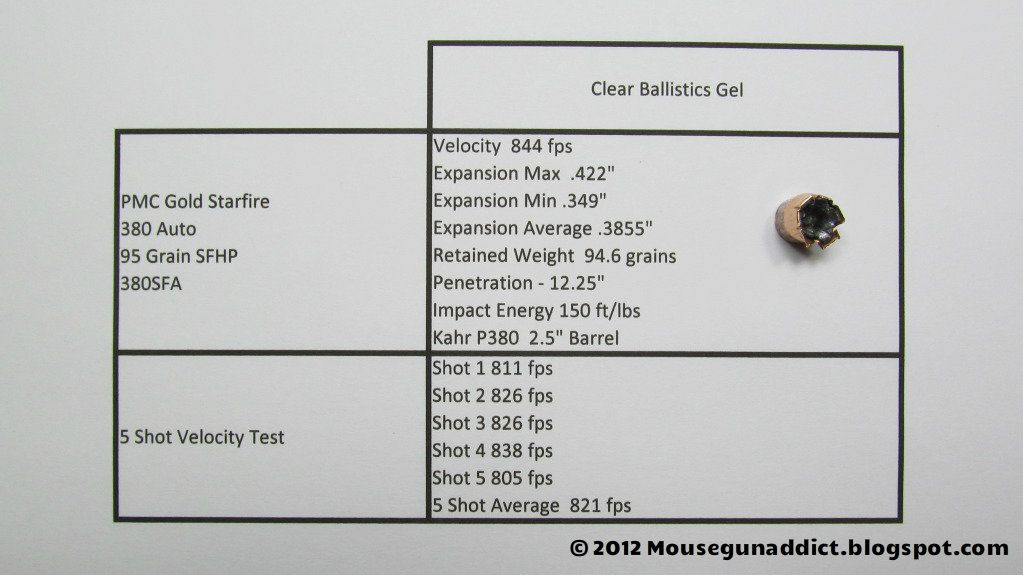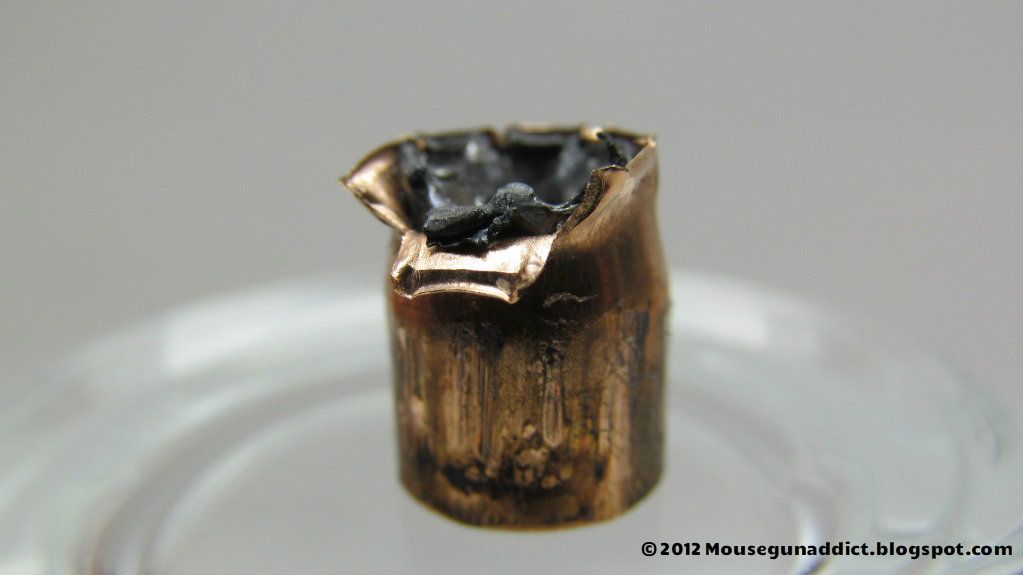 The video below documents my entire test from range testing to bullet recovery.
My Thoughts:
PMC publishes a muzzle velocity of 925 fps for this load as measured from a "test barrel". I honestly don't know what the proper test barrel length is for the .380 Auto, but I could tell during the 5 shot velocity average testing that it would be a miracle if this load fully expanded at the velocities measured during that phase of testing. Even with the gel test shot running 22 fps faster than the 5 shot velocity average, it only achieved minimal expansion. Weight retention was good at 94+ grains so I have to believe the dark areas we saw in the wound channel w

as

simply smudging of the gel by the very dark lead core of this round. 12.25" of penetration would have been an excellent resu

lt

if the bullet had expanded fully. With partial expansion we would expect to see 14" to 16" of penetration as we have with flat nose

d

FMJ loads of similar weight and veloc

ity.
I really appreciate the folks at Lucky Gunner for supplying the

ammunition

for this test. I'm probably guilty of shielding readers from more test results like this. I like to write about, and I'm sure you all like to read about, the loads that perform well. It's not quite so interest

ing to see the loads that don't perform perfectly in testing. M

y gut told me that this load couldn't possibly expand fully at the velocity measured during the initial velocity testing. Normally, I just move on to the next load and

won't

bother with a gel test. Since the ammunition was provided for testing with the expectation of seeing an actual

test

result, I pushed ahead with the gel test.
This load is simply hampered by low velocity. If reconfigured to safely

achieve 925

fps from a short 2.5" to 3" barrel, I feel more confident that it would expand as shown on the PMC website. I have some rounds left after this test so I may try it again in the future with a longer 3.2" barrel and see if velocity improves to something closer to the 925 fps advertised for this

load.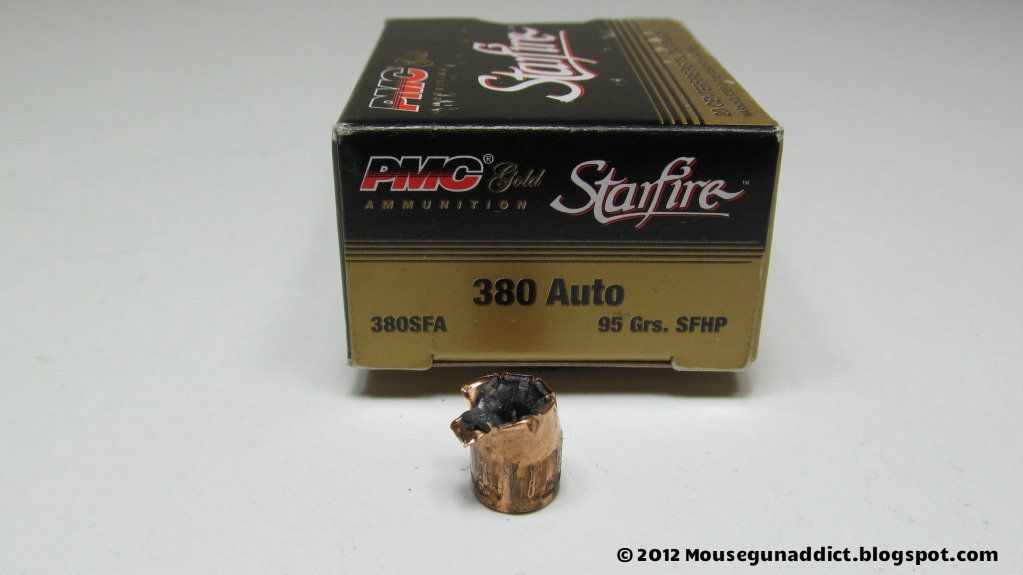 Disclaimer....This test should not be considered an endorsement or recommendation for the product(s) tested. All tests represent actual performance in ballistics testing media. Terminal performance in all other media will show different results. It is up to each individual to make their own personal decision on which specific ammunition to use for their needs. It's also critically important to test any ammo in YOUR SPECIFIC FIREARM before relying on it for any purpose.
Ammunition labeled as +P or +P+ should only be used in firearms that have been certified by the manufacturer as safe for the additional pressures generated by these ammunition types.