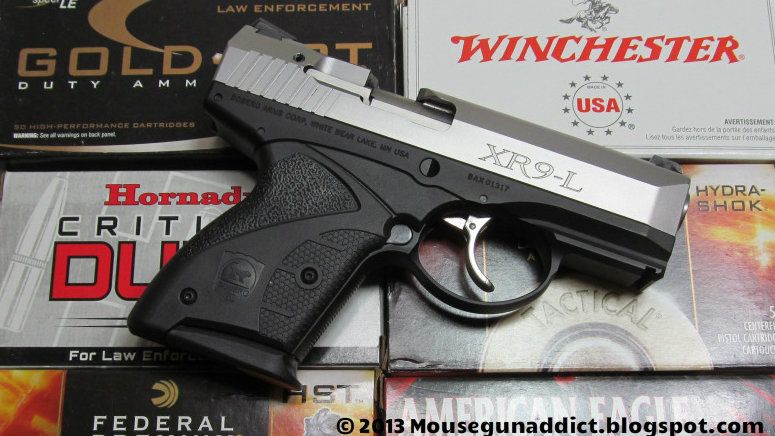 Two weeks ago, I picked up a testing copy of the new Boberg XR9-L. I don't think anyone has received their pre-orders of this model yet, but they will start shipping soon to those that got into the pre-order queue when it was opened in early January. Currently the Boberg XR9-L and XR9-S are only available by ordering directly from Boberg Arms through their web store. Now that the SHOT Show is over and more industry folks have been exposed to the innovative features designed into these pistols, maybe we'll see some stocking dealers or distributors in the future.
If you are just now joining the XR9-L review, you may want to check out the Review Parts
1
and
2
as they go into more detail on the overall XR9-L pistol specifications as well as a deep dive into the differences between the XR9-L and XR9-S. If you only care about how it shoots, then you skipped right to the that part of the review.
My favorite part about shooting any Boberg is the milder recoil. When I shoot other small 9mm pistols they can start to get uncomfortable after a box or two down range. I just don't notice the recoil when shooting the XR9-L or even the XR9-S because, even with a two finger front strap grip, they are as comfortable to shoot as any full size 9mm I own. I'll give Arne some credit for that with the rotating barrel locking system, absence of sharp edges where I position my hands when holding the pistols, and also the introduction of the recoil mid-buffer in the XR9-L. I think part of it is also how the grip fits my hand and just feels good.
On my first range visit I shot the video comparing the XR9-L and XR9-S. You can find that in review part 2 mentioned above. I really didn't get the chance to do much shooting for accuracy or speed. Instead I let someone else try both the XR9-S and XR9-L to see what they thought about them.
I went back to the range the next day and shot for as long as I could stand the cold, wind, and rain that had moved into the area overnight. I managed to get through about 75 rounds before my hands were too numb to shoot. I saved the target from the rain and what you see below is a combination of strong hand, weak hand, and two hand shooting from 10 yards. I also let another shooter run two mags through the XR9-L so he could pass his impressions on to Arne at SHOT last week.
It didn't take me long to figure out that the XR9-L had the 9lb. hammer spring installed instead of the 6lb. hammer spring I have been using in my XR9-S. Even with the heavier trigger spring, I was satisfied with the results on the target, but I did swap out the 9lb. spring for a lighter 7.5lb that I had at the house as a spare.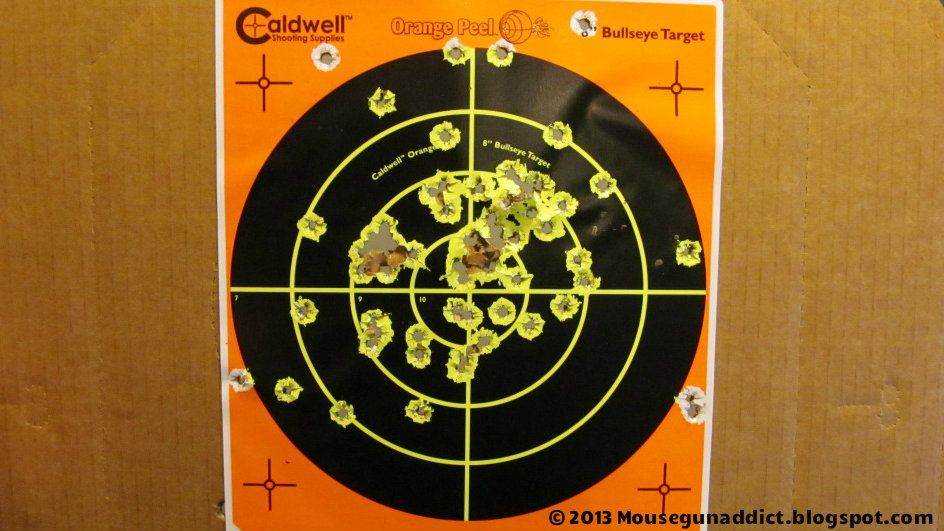 I didn't really think about, or spend any time with the XR9-L last week. I was too involved following all the Tweets, Facebook updates, blog posts, new product announcements, and YouTube videos that folks were posting from the SHOT Show. I was also getting the occasional text message from our local attendees asking if I had ever heard of this company or that product, and if I would be interested in doing a review on this or that product. I returned the favor and asked them to go check on specific booths for me and tell me what they thought about a firearm or product I was interested in.
By the weekend, I was ready to get back on out the range with the XR9-L with its new lighter trigger. I had some big plans for Saturday, but quickly lost my desire to shoot after drilling my chronograph with a .357 Magnum (one post back if you want that story). I put a few mags down range and called it a day.
Sunday was a different story. I had recovered from the loss of my friend the chronograph and was in the mood to shoot. For the video below, I decided to set up a steel target and try shooting from 10, 20, and 25 yards. Pocket pistols are usually pretty accurate at 10 yards or less, but for me accuracy goes out the window as distance increases. It's rare that I'll even attempt to shoot a small pistol at 20 yards for fear of eroding my 7 to 10 yard accuracy confidence. I made one trial run at this with three magazines loaded with 7 rounds each. I ended up missing twice at 25 yards because I was tired. I tried it a second time with 5 rounds in each magazine and hit the steel all 15 times. That convinced me that I really do need a XR9-L of my own. I also need to send this one back to Boberg so someone else can have the chance to review it.
You may be wondering why I keep calling the XR9-L a pocket pistol. It is larger than the XR9-S, but it's still about the same size as the Glock 26 and 27. The Glock 27 is the largest pocket pistol I can comfortably carry. I see no reason why the XR9-L couldn't be pocket carried with equal ease. In the video I had the XR9-L set up in a Remora appendix carry holster and it was comfortable there too. It's nice to have options.
One last note on reliability and ammunition compatibility. During the two weeks I had the XR9-L, I kept a strict record of round counts and ammunition varieties that went through the pistol. We shot the following:
100 Remington UMC 115 Grain JHP
15 Federal Hydra-Shok 124 Grain JHP
50 Sellier and Bellot Police 115 Grain FMJ
30 Winchester Personal Protection 147 Grain JHP
15 Speer Gold Dot 124 Grain GDHP
64 American Eagle 124 Grain FMJ
8 Hornady Critical Duty 135 Grain +P FTX
8 Federal HST 124 Grain +P JHP
290 rounds total with no issues of any kind for any of the three shooters that tried it.
I didn't shoot many of the +P rounds through the pistol because the longer barrel of the XR9-L allowed these more powerful defense loads to achieve velocities high enough to knock the steel target off the stand. After resetting the target 4 times in two magazines, I gave up trying. I'm confident they will feed and fire just as well as they do in the XR9-S.
I guess I need to head on over to the Boberg web store and get my order in. Onyx or Platinum? I just can't decide.