For the milestone 200th blog article, I'm going back to my mouse gun roots with a .32 caliber ammunition test. I've been waiting to get my hands on a box of this stuff since the first day I read about it coming to market. As a bonus, this ammunition was actually on my
2013 Wish List
.
This new load from Hornady is an extension of their very popular Critical Defense line of self-defense ammunition. If you've never heard of 32 NAA, I'll give you the 10,000 foot overview on the cartridge. The 32 NAA is a bottle-necked pistol cartridge spawned from the 380 Auto. In the picture below you can see the 32 NAA and 380 AUTO side by side. A 32 NAA is formed by necking down a 380 auto brass case to accept a 32 caliber bullet. The concept behind the cartridge is to put more powder behind a 32 caliber bullet than is possible with the 32 Auto cartridge.
32 NAA ammunition is very much a niche item. Prior to this new release from Hornady, all conventional 32 NAA ammunition was produced by Corbon. It's nice to have a second company producing 32 NAA ammunition and additional choices in bullet weight. This new load from Hornady weighs 80 grains while offerings from Corbon are limited to a 60 grain JHP and 71 grain FMJ.
Test Pistol Specs:
Diamondback DB380MS with 2.8" 32 NAA Barrel
Testing Protocol:
My testing process is pretty simple. I take one shot at the end of a Clear Ballistics Gel block that measures approximately

6" x 6" x 16" and weighs approximately 16 lbs.

I take the test shot from 8 feet away and impact velocity is measured less than 2 inches away from the block. Clear Ballistics Gel is calibrated to 10% ballistics gel density. I shoot the block at the range and then bring it home to analyze the block and recover the bullet. Immediately prior to shooting the block, I take a 5 shot velocity test over a P

roChrono Digital

chronograph.
Test Results
:
The test results are summarized in the data sheet below along with a close up shot of the recovered bullet.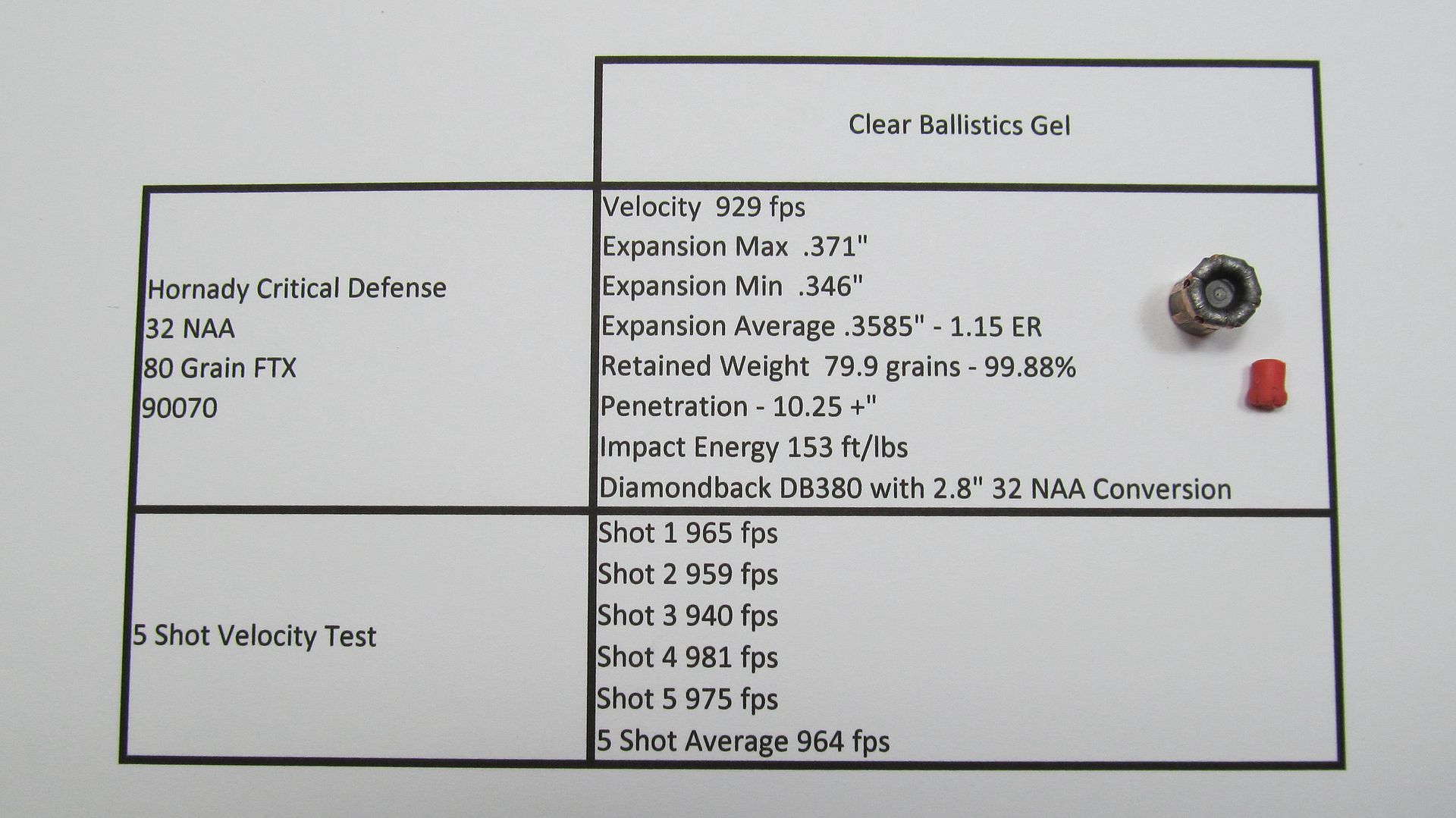 Video documentation of the entire test from range through bullet recovery is available below. The high definition video is best viewed on YouTube, but you can also view it here.
My Thoughts on This Load:
Velocity:
Published muzzle velocity for this load is 1000 feet per second. We came in slightly under that with our 5 shot test string and quite a bit under that with the clear gel test shot. I purchased this ammunition from what I believe to be one of the largest on-line retailers as soon as it became available so this was probably some of the first batch produced. Let's hope that Hornady is still fine tuning their production and subsequent batches meet the published velocity specification across all available 32 NAA barrel lengths.
Expansion:
The average expansion of the recovered bullet was .3585". We can turn this into an expansion ratio by dividing the expanded average diameter by the unexpanded bullet diameter of .312". The result of the math is an expansion ratio of 1.15. This means the recovered bullet is 15% larger than the unexpanded bullet.
Weight Retention:
The recovered bullet from this test weighed 79.9 grains with the 1 grain red plug included. We can convert this to a weight retention percentage by dividing the recovered weight by the bullet weight published on the box. In this case the weight retention percentage was 99.88%. Weight retention was excellent with only slight traces of red polymer visible in the wound channel.
Penetration:
Penetration depth measurement gets a bit sticky with this test. Based on the final bullet resting location, the penetration measured 10.25 inches. Looking at the gel block and high speed video footage, it's obvious that this load penetrated 12.5 to 13 inches before being sucked back down the wound channel.
I've observed that the bullets that seem to "bounce back" the most are those that maintain the straightest penetration path down the block. Perhaps an expert on fluid dynamics could estimate the vacuum force generated by the collapsing expansion cavity behind the bullet, but that's way outside of my knowledge base.
Energy:
The calculated energy of the gel test shot was 153 ft/lbs. To put some perspective around that number, it is slightly more than the 146 ft/lbs. of energy generated by the Critical Defense 380 Auto 90 grain load as fired through a barrel of exactly the same length as our 32 NAA test barrel. I am referencing back to
this specific prior test
of the
380 Critical Defense.
Wrap Up:
This load displays all the common characteristics of the Hornady Critical Defense ammunition line with mild recoil, modest expansion, and adequate penetration. Overall performance is about as good as we can expect from a .32 Auto or .32 NAA pocket pistol. Regardless of which side of the 32 Auto JHP vs. FMJ debate you fall on, the Hornady Critical Defense 32 NAA demonstrates to me that it is possible to have a 32 caliber bullet expand to greater than 9mm diameter and still get 12 + inches of penetration.
I'm glad I decided to buy two boxes instead of one when I placed my order.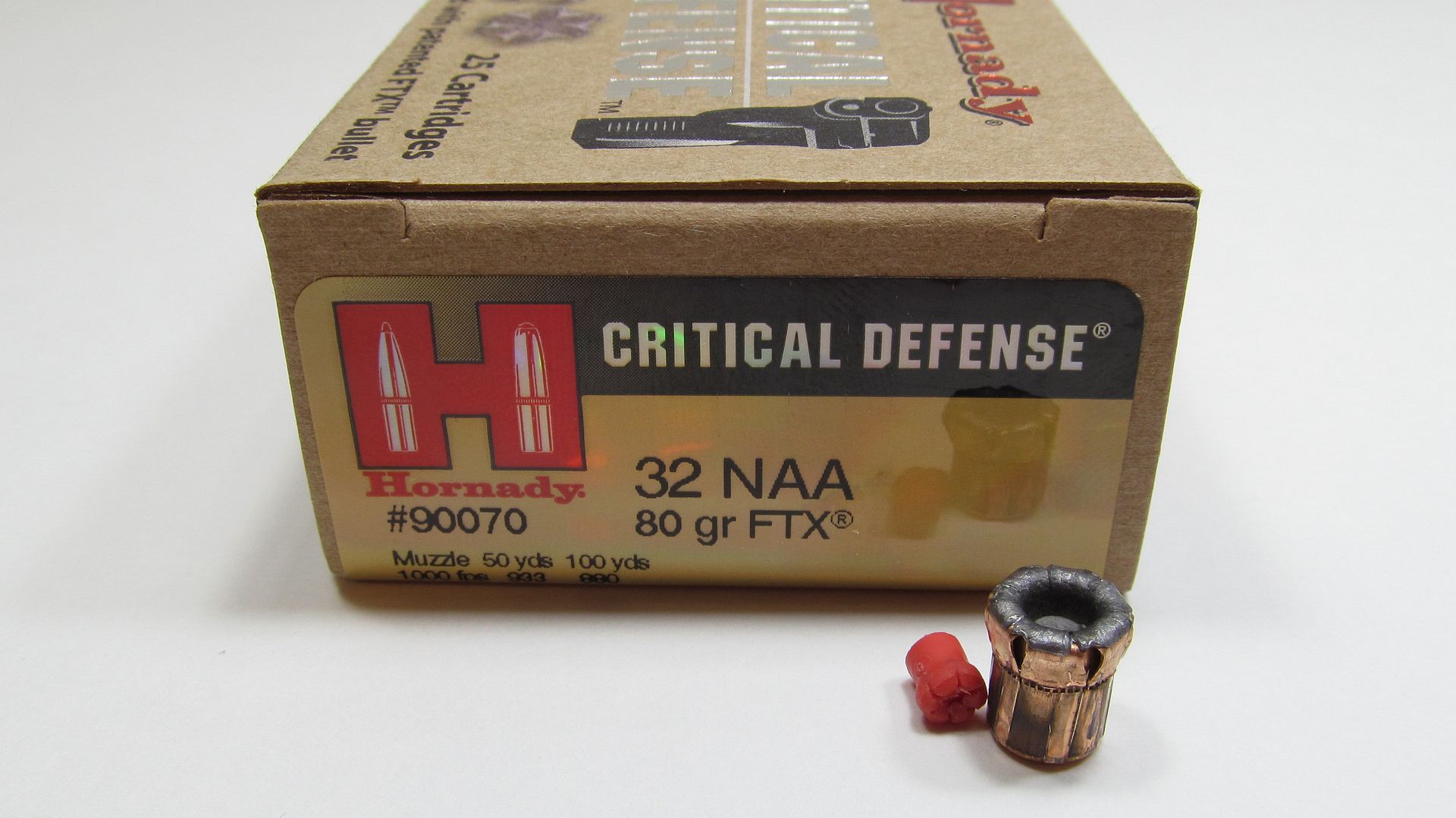 Disclaimer....This test should not be considered an endorsement or recommendation for the product(s) tested. All tests represent actual performance in ballistics testing media. Terminal performance in all other media will show different results. It is up to each individual to make their own personal decision on which specific ammunition to use for their needs. It's also critically important to test any ammo in YOUR SPECIFIC FIREARM before relying on it for any purpose.
Ammunition labeled as +P or +P+ should only be used in firearms that have been certified by the manufacturer as safe for the additional pressures generated by these ammunition types.