I really enjoy testing new stuff that is truly unique and different. This new ammunition from Liberty Ammunition falls right into that category. The folks at Ammunition Depot asked me if I would be interested in testing the ammunition and after looking at the box art on line, they had me hooked. Halo has been one of my favorite game franchises since Halo Combat Evolved made its debut on the original Xbox over a decade ago. The Halo Point logo bears a strong resemblance to the Halo video game logo as you can see in the p

icture below.
Aside from the box art, there was also the ammunition itself that piqued my interest. Liberty Ammunition proclaims to be the World Leader in lead-free high performance ammunition. I have no reason to doubt that claim. The Halo Point Civil Defense ammunition line consists of offerings in 45 ACP, 40 S&W, and 9mm Luger. I received sample

s of the 60 grain 40 S&W and 50 grain 9mm for testing. Thanks again to Ammunition Depot for the samples.
For the sake of brevity, I'll paraphrase the concept behind the Halo Point ammunition li

ne.

The lead-free bullets, used in the Halo P

oint loads,

are described as

fragmenting

monolithic hollo

w points.

The lightweight h

yper

velocity loads generate very high energy by pushing the light weight bullets to velocity levels near 2000 feet per se

cond.

Upon contact with the target, the nose of the bullet expands and fragments into a group of small pieces. The bullet base remains in-tact and continues to penetrat

e deeply

into the target. The key selling points appear to be high energy, reduced recoil, and "significant results in terminal effects

".
Having a rough idea what to expect, it was time to get the ammunition out on

the range.
Test Pistol Specs:
Kahr PM40 with 3" Barrel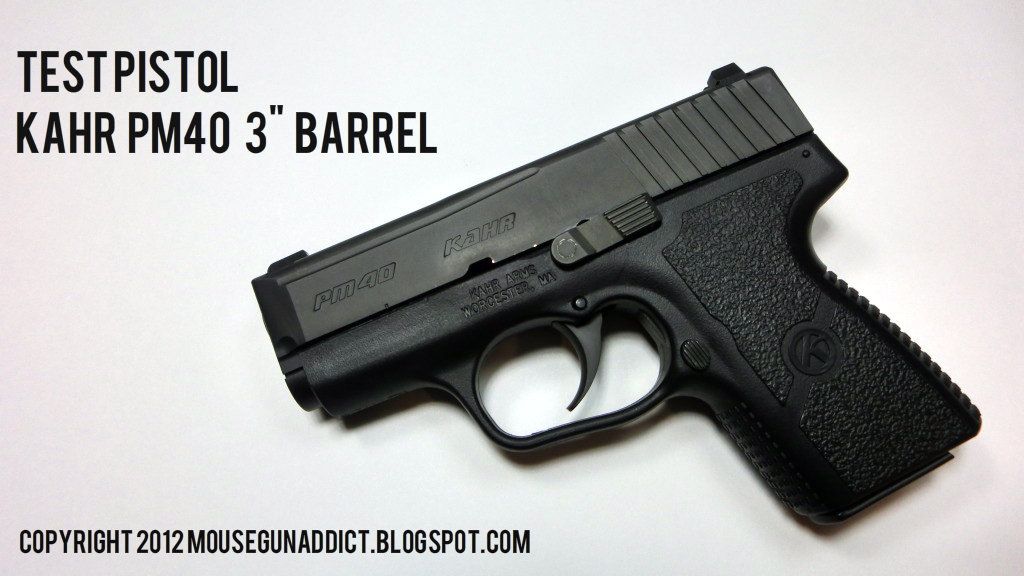 Testing Protocol:
My testing process is pretty simple. I take one shot at the end of a Clear Ballistics Gel block that measures approximately

6" x 6" x 16" and weighs approximately 16 lbs.

I take the test shot from 8 feet away and impact velocity is measured less than 2 inches away from the block. Clear Ballistics Gel is calibrated to 10% ballistics gel density. I shoot the block at the range and then bring it home to analyze the block and recover the bullet. Immediately prior to shooting the block, I take a 5 shot velocity test over a P

roChrono Digital

chronograph.
Test Results
:
The test results are summarized in the data sheet below along with a close up shot of the recovered bullet.
Video documentation of the entire test from range through bullet recovery is available below. The high definition video is best viewed on YouTube, but you can also view it here.
My Thoughts on This Load:
Over the last year I've built up a decent body of knowledge on terminal performance after conducting all kinds of terminal tests on a wide variety of ammunition. Unfortunately, none of that applies in this case because this is the first intentionally fragmenting load I've tested. I can make some sweeping generalizations on how this load differs from others I've tested.
I'll start with a discussion of the maximum stretch cavity. For the picture below, I grabbed a video frame showing the maximum stretch cavity size. This is very unique and different than anything we've previously seen in our testing. The stretch cavity is almost round and very close to 6 inches tall. As we saw in the video analysis of the gel block artifacts, the stretch cavity is really the fragmentation cavity where the bullet is breaking apart and sending 17 fragments out in a circular pattern from the primary wound channel. The tail to the right of the fragmentation cavity is the bullet base, or 18th fragment, that continued to penetrate more deeply into the gel block. Calculated energy was 540 ft/lbs. on this test shot.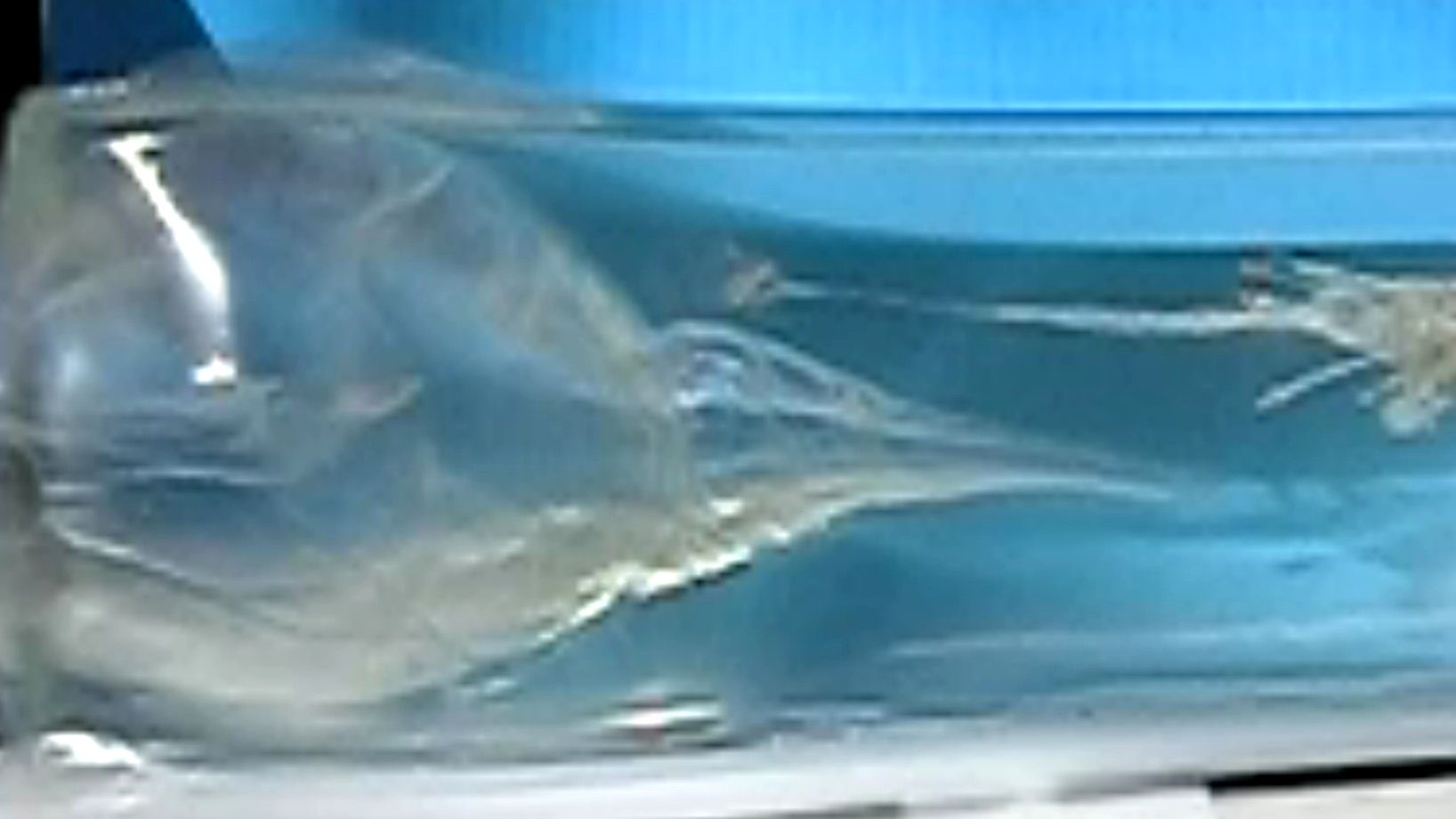 Halo Point 40 S&W 540 ft/lbs of Energy
Contrast this with the maximum expansion cavity created by a 125 Grain 357 magnum load traveling at approximately 1400 fps and generating 549 ft/lbs of energy. The picture below displays the energy transfer and stretch cavity we have come to expect from traditional expanding bullets. The horizontal vortex is very symmetrical and decreases in size as the bullet penetrates deeper into the block. This is the only clear get test I have that matches approximate energy. All previous 40 S&W tests generated energy between 350 and 370 ft/lbs.
Speer Gold Dot 357 Magnum 549 ft/lbs of Energy
Wrap Up:
As I type this up nearly two weeks after I ran the terminal test, I'm still mentally shaking my head in disbelief at the velocity generated by this load in the short 3" Kahr test barrel. I can only imagine what would show up on the chronograph if I retested this in a full size service pistol. Conventional wisdom dictates longer barrel = higher velocity, but without actually testing we won't know if that holds true for this load. Prior to the test, I did have some concerns about cycling with this lighter than normal bullet, but in my limited testing I had zero failures with feeding or extraction. In retrospect, I probably should have loaded two Halo Point rounds behind two conventional 165 grain JHP defense loads to compare "felt recoil". I guess I'll save that test for a later date.
From this one test, the Liberty Halo Point appears to perform as advertised. The light bullet delivers on the velocity and fragmentation fronts, but fell short on the penetration claim of 12 inches. Liberty doesn't mention the media they used to develop their penetration data or test barrel length. A retest in a longer barrel may allow the round to penetrate to the full 12 inches. The box states that the bullet will fragment into up to 7 pieces. When I was done extracting all the fragments I had 18 in total and had accounted for 100+% of the published bullet weight.
So is the Halo Point Civil Defense, from Liberty Ammunition, the future of personal defense ammunition? I think we need to hear some reports from the field before we can make that assessment. My goal with this article was simply to demonstrate how the ammunition performs and capture a series of performance measures. Stop back on Thursday for the 9mm Halo Point test results.
Disclaimer....This test should not be considered an endorsement or recommendation for the product(s) tested. All tests represent actual performance in ballistics testing media. Terminal performance in all other media will show different results. It is up to each individual to make their own personal decision on which specific ammunition to use for their needs. It's also critically important to test any ammo in YOUR SPECIFIC FIREARM before relying on it for any purpose.
Ammunition labeled as +P or +P+ should only be used in firearms that have been certified by the manufacturer as safe for the additional pressures generated by these ammunition types.