Oh yeah, it's getting to be that time of year again. The time of year when I dust off my 22s and head out to the range for some serious competition and fun at the annual Ruger Rimfire Challenge held at the Nighthawk Custom Training Academy shooting facility in Centerton, Arkansas.
I'm not much of a competitive shooter any longer, but I do look forward to this event each year. This is the third year the shoot is being held at the range where I shoot most of the video that ends up on the blog. Having the event taking place so close to home makes attending almost mandatory. This all ages and skill levels welcome shoot is a great event every year for the single competitor or the entire family.
Even though the event is about having fun and exposing new shooters to competition shooting in a safe and non-threatening way, you better bring your A game if you plan on finishing near the top of the leader-board. You may find yourself shooting in a squad with some of best sponsored rimfire competitors from the states around Arkansas. At the end of the day, where you finish is just for bragging rights since the chance to pluck some loot from the overflowing prize table is based on random draw and not your finish position.
Having shot the event twice before, I know what to expect and how the event works. I know what didn't go "right" for me at the previous two events so I'm all dialed in and ready to go, but really what fun is that? I'm upping the challenge for myself this year by leaving the red dot sights at home. I'm really dusting off the 22's, and will be shooting my first two Ruger rimfire guns that I purchased back in the 90's when I initially moved to Arkansas. I've decided to compete in the Limited Iron Sight class this year. Red dot sights help my precision, but end up costing me time because I don't practice enough with them and always find myself struggling to find the dot.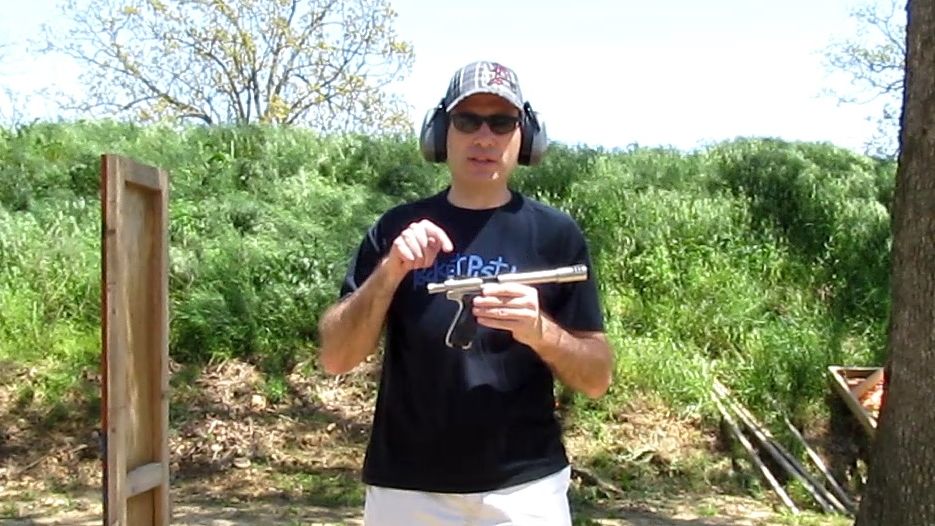 My pistol choice is a Ruger Mark II with 5.5" bull barrel. I took it out to the range yesterday with a fresh box of Federal 550 value pack ammunition. I ran two full magazines through the pistol with no problems. I expected that would be the case. It shot to point of aim so it's good to go.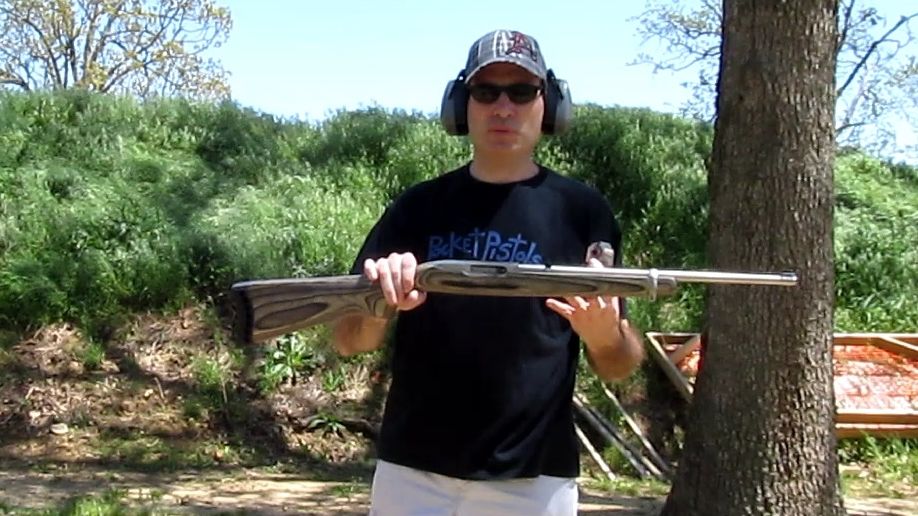 In the early 1990's Walmart would do special edition guns with Ruger and Remington. I believe this 10-22 was one of those special editions. Laminated stocks were just becoming somewhat mainstream so if it wasn't this 10-22 then it was a 10-22 International that was the special edition. Regardless, I'm shooting it for the event and it also worked fantastic with the Federal 550 bulk ammo.
I've done some work on the guns over the years, but mostly just to improve their triggers with Volquartsen replacement parts. If the equipment between my ears works, these guns should be more than up to the competition challenge.
I shot some video showing both guns in action on a steel target much like those that will be used at the Rimfire Challenge Event, but the wind was epic yesterday and spoiled all my video. I was able to grab a few pictures, but the video sounds like I'm down wind of the exhaust end of a jet engine. It was great to hear that ringing steel again. It really got me pumped up and looking forward to the event again this year.
So now the fun starts. If I want to shoot well, I'll need to invest some time and energy on practice. Then there is the ammunition consideration. I'm set for this event with a few spare bulk packs if I need them, but it makes me wonder if ammo supply will be a factor for the folks that didn't buy some extra before the elections.
I haven't mentioned the ammo drought much on the blog, but the lack of 22 ammo of just about any kind is really concerning. I learned to shoot at Boy Scout camp many moons ago with a single shot 22 rifle and blocks of ammo that were 10 rounds for a quarter. I wonder how many Scouts won't have that opportunity this Summer if supply stays as tight as it has been.
If you would like to register for the shoot, the entry form is up on the Nighthawk Custom Training Academy website
HERE
. Just click through where it shows Online Registration. If you want to do a quick calendar check, it's scheduled for Saturday June 29th from 8am to 5pm. In previous years, the shooting stages were shown before the event. They aren't available yet, so check back later if you are interested in seeing them.
If you plan to attend the shoot, let me know. It would be great to meet you. I had one blog reader contact me earlier this week and Lucas and I will be talking guns and ammo during the shooting breaks.