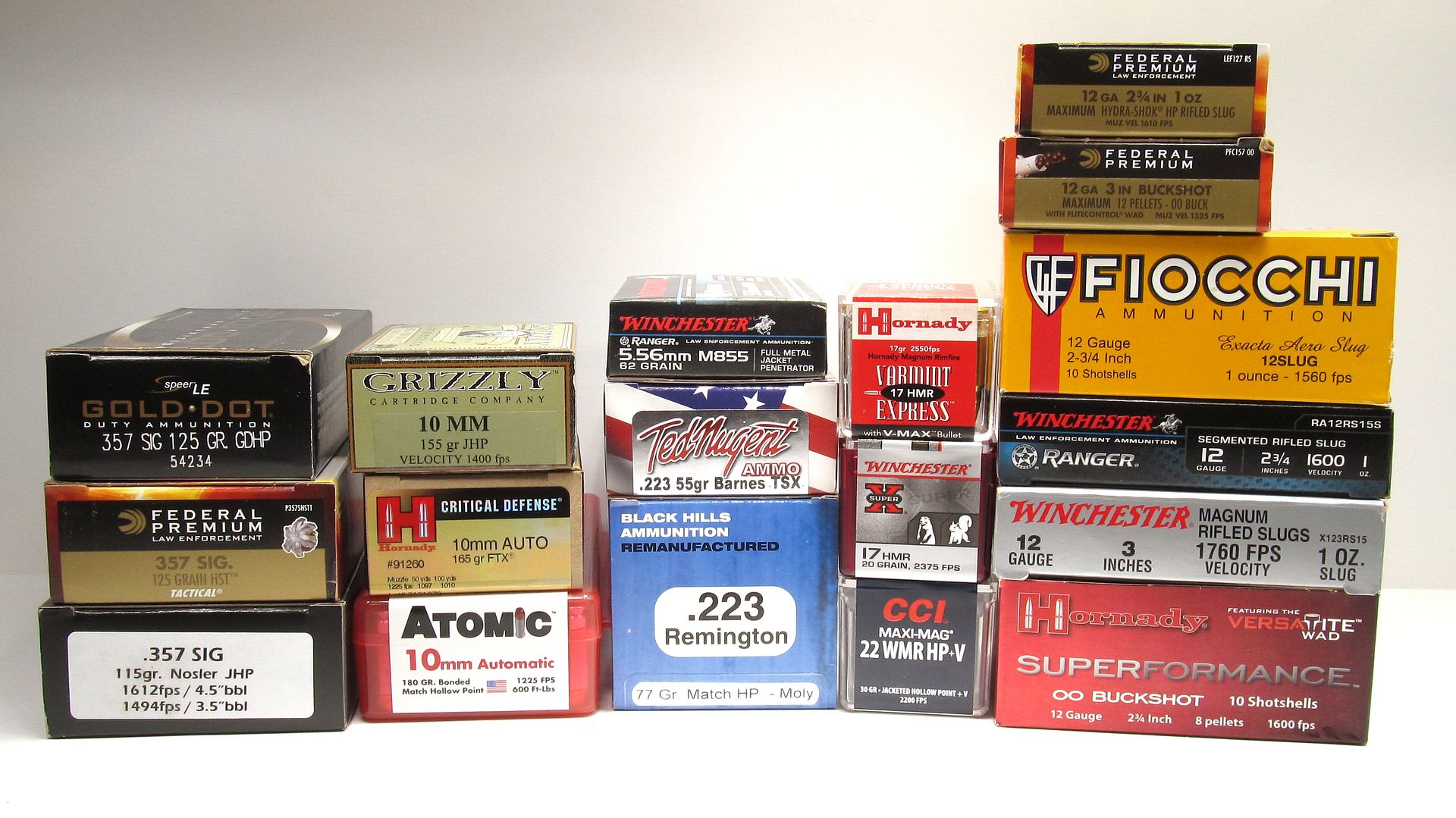 On February 2nd this year, I posted an update on my terminal testing for 2013. At that time, the ammunition drought was near its peak with empty shelves being the rule of the day. Any ammunition that did hit the shelf was gone immediately. If you weren't there when they put it out for sale, you missed out. Online supplies were also very tight and prices rose with demand. I don't think anyone knew how long the drought would last so I made a decision to limit my tests to one per week for the duration of the drought. I had a decent stockpile of stuff to test and I also received several very generous ammunition donations for testing. I was confident the blog would be able to ride out the drought.
I'm not sure what ammunition supplies are like in your specific area, but supply continues to improve in my area. Online suppliers also appear to have things in stock for days instead of hours. 22 rimfire ammunition continues to be a problem here, but I'll skip my soapbox speech about ammo gougers that buy with the singular intention of reselling for profit. Prices across the board continue to moderate and perhaps we'll even see September 2012 prices again. We can always hope.
I don't know if you noticed, but I ended up publishing 10 ammunition tests last month. I liked the scheduled nature of publishing at least one test per week, but now I'm finding it limiting. I'm going back to publishing tests as soon as I finish the video and write up the blog. So for the immediate future, every day could be a Terminal Test Thursday except for next week. Between two back to back rainy weekends and my recovery from DoubleTap thumb, I've worked through all my backlog of competed tests. Every single scrap of Clear Ballistics Gel has been cleaned and remolded. I have an ammo can with 11 donated ammunition samples ready to go so I can clear most of backlogged donations waiting to be tested. I sincerely apologize to everyone that sent stuff in for making you wait so long for test results. You are my priority and I will get your stuff tested as soon as possible.
You may have noticed some new calibers in the opening picture and wondered what that was about. Having tested a vast majority of the available 380 Auto ammunition universe, I will be expanding my universe of testing soon after clearing the backlogged donations. I've enjoyed being the "short barrel guy", but my terminal ballistics testing curiosity runs deeper than that. I recently discovered that Wikipedia has listed the blog as an external reference for
32 ACP.
When I discovered that, it really made my day because one of the primary goals of the blog has always been to provide information, and serve as a reference, for folks interested in ammunition terminal performance. The link on the Wiki page takes the reader to the
Ammo Tests consolidated test results page
so anyone landing on it can see a listing of all completed tests for every caliber.
Blog reader and YouTube subscriber Pete has been very busy keeping up with all the new YouTube videos published by
tnoutdoors9
,
Mrgunsngear
, and
PocketGunsandGear
. Pete recaps all the tests into a single Excel spreadsheet that's an excellent resource for comparing test results across all three of us. You can find that spreadsheet, as well as some other manufacturer published terminal performance results, by clicking
HERE
. It's another really good resource for folks that want to compare ammunition test results quickly and skip watching dozens of test videos.
I had one other point to cover that may, or may not, be well received. Having lost my short barrel 45 test pistol to a
recall of currently unknown duration
. It made me pause to consider how I could standardize the test barrel lengths across 9mm, .357 Sig, 40 S&W, 10mm, and 45 Auto. I've decided to set aside a Glock 22, 23, 27, 36, and 21 specifically for testing purposes. Each pistol, except for the G36, can be used for multiple calibers and will give me testing options ranging from 3.4" up to 4.5". Lacking a true short barrel 45 Auto, my shortest test barrel length will now be 3.8". I may do the occasional 3" barrel 9mm or 40 S&W test when it makes sense to do so. 380 Auto and below will still be tested in representative pocket sized pistols.
The blog and YouTube channel continue to amaze me with their reader/viewer growth. The YouTube channel just passed 3000 subscribers today. Combined views of the blog and YouTube videos have been running well over 100,000 per month for several months. That's what inspires me to keep raising the bar and pushing myself to create better and more diverse content. I really appreciate your viewer support.