SunJack is the consumer products arm of Gigawatt, Incorporated. California based Gigawatt has been sourcing, designing, and installing solar power products for almost a decade. Leveraging that experience, SunJack designed their first portable solar products and raised their initial funding through a Kickstarter campaign in 2014.
The mission at SunJack is to bring portable energy independence to people around the globe. Since the company launched in 2014, they have developed a catalog of a dozen solar and LED light related items. The diverse products should appeal to a broad range of consumers. SunJack products are assembled in the USA and ship from their California headquarters.
I'll admit that I have a long-standing interest in solar power. When I was growing up in the 1970's, I was old enough to understand the Oil Embargo and watched with interest as advances were made in solar power during that time. I liked the concept of a solar powered car, home, or business, but always lacked the conviction to follow though on a solar implementation of my own. When the folks at SunJack asked if I would be interested in reviewing their products, I thought it would be a great opportunity to see how solar power collection equipment had progressed in the last 30 years.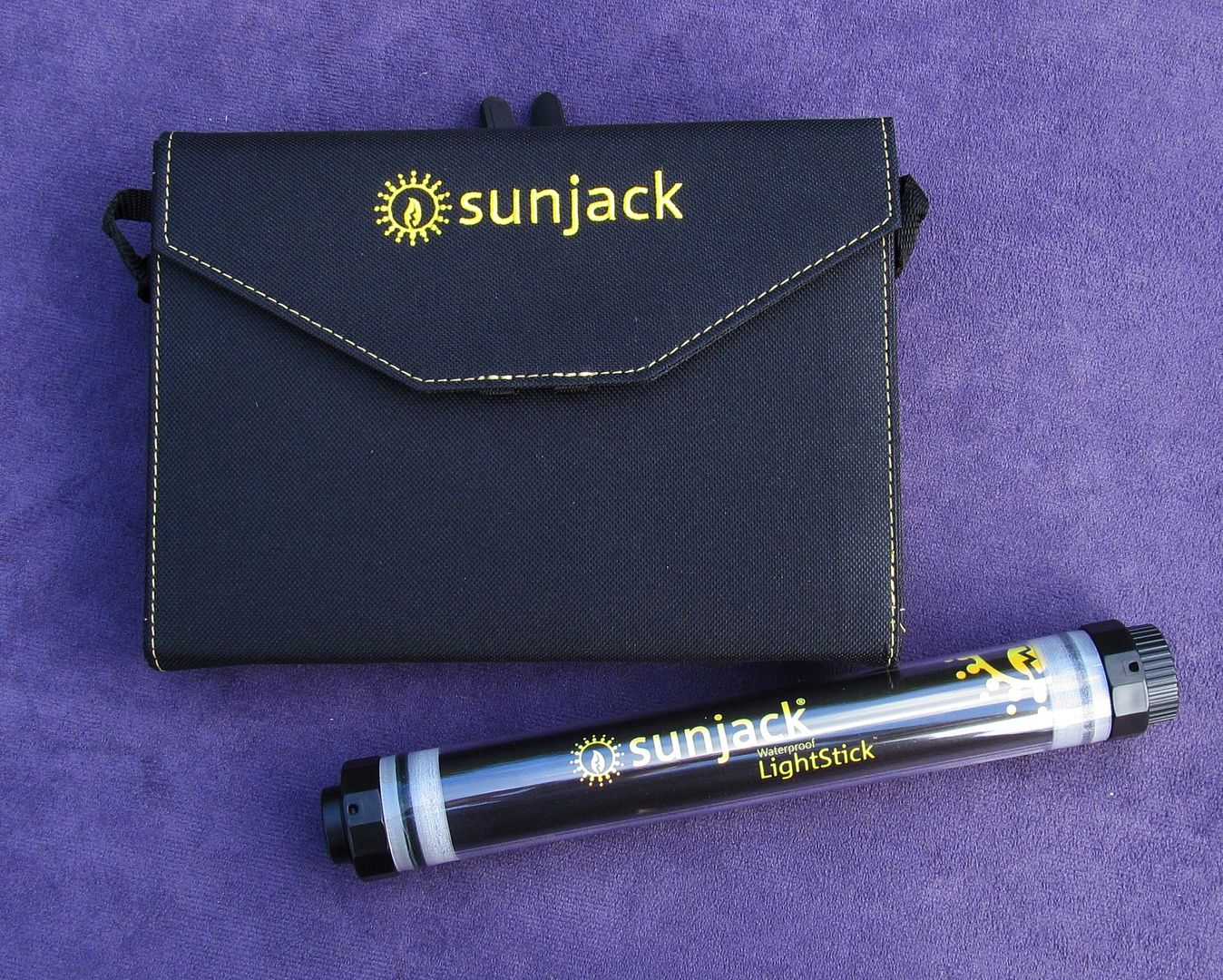 After checking out the SunJack product catalog, I requested the Waterproof LightStick and 14 Watt Solar Charger for review. Reading through the product descriptions, I thought these two items would be perfectly complimentary as a lighting solution in the event of a long-term power outage. The Solar Charger could be used to harvest power during the day to recharge the Waterproof LightStick for use after the sun went down.
I didn't anticipate using these items on a daily basis. My review plan was to assure these items were indeed complimentary, and would provide a battery-free emergency lighting solution. They passed that test with flying colors, but that was just the tip of the iceberg. What I didn't expect was how frequently I would use both of these items on a daily basis.
I have use demonstration and review videos up for both items individually. The videos cover many of the main design features of both items in much more detail than I could possibly cover is this write up.
SunJack Waterproof LightStick Video Review
Direct Link to Video on YouTube
SunJack 14 Watt Solar Charger Demonstration Video
Direct Link to 14 Watt Solar Charger Video on YouTube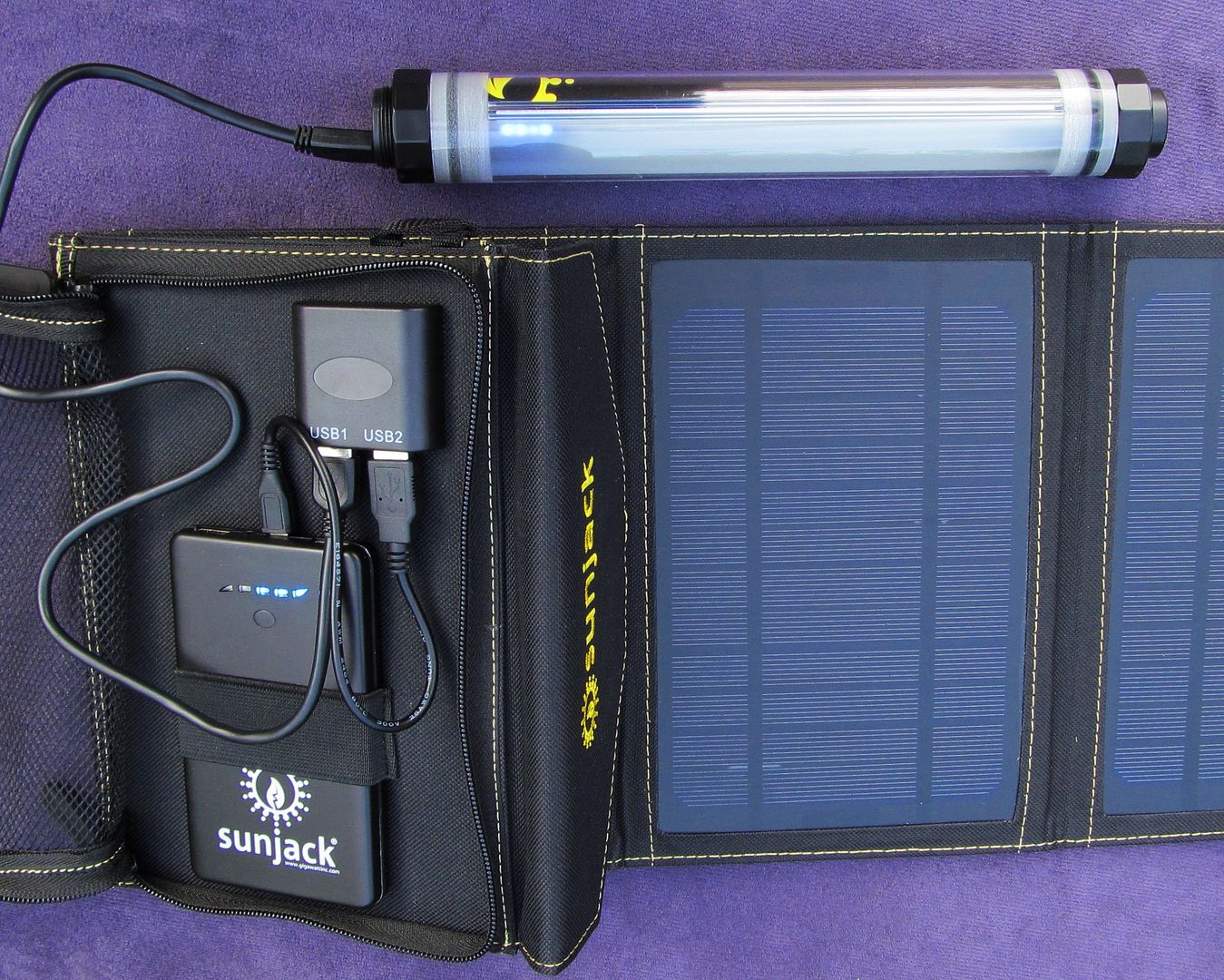 To wrap up this review, the Waterproof LightStick and 14 Watt Solar Charger perform perfectly together. Setting the charger out in a sunny area, or even a sunny spot inside the house, for several hours fully charged the LightStick and Solar Charger 8000 milliamp external battery pack. As a one time purchase for disaster preparedness, I think it's worth the $195 investment.
Going beyond the review, I find myself using the Solar Charger as part of my photography and video kit with increasing frequency. With so many cameras, and the smartphones/tablet that control them, it seems like something is always low on power. I've used the Solar Charger to top up charge on several occasions. I just set it out on the ground and attach whatever needs to be charged, or attach the external battery pack to the device in need of power. It now has a permanent home in my range bag.
SunJack products are available through their website, select retail outlets, and online retailers. As always, shopping around may save you some money.
The Waterproof LightStick can be submerged in water to a depth of
6 feet. Leaving it out in the rain for hours didn't bother it.
The back of the Solar Charger has a built in cable management pouch
and elastic loop to secure the 8000 milliamp power storage battery.
Dual 2 amp USB outlets will charge up to two electronic devices at
the same time. Even power hungry tablets.